Liz Truss: About UK's 45-days Prime Minister, her biography and political career
Liz Truss is now United Kingdom's Prime Minster with the shortest tenure after spending just 45 days in office.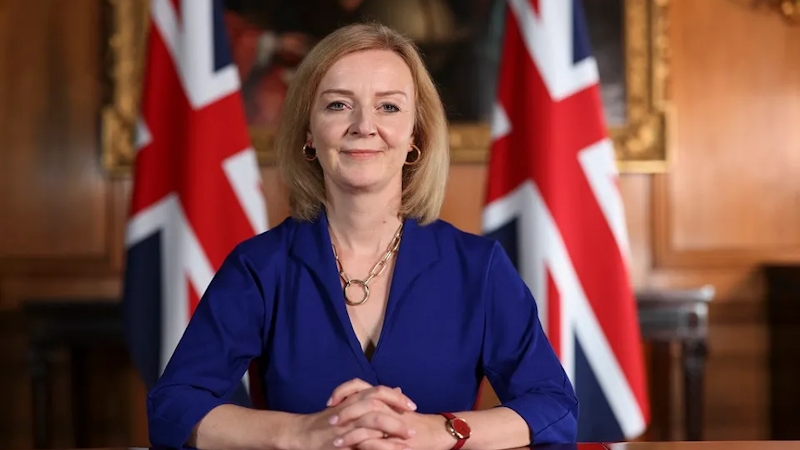 United Kingdom's 56th Prime Minister, Liz Elizabeth Truss, was the third female to hold the position after Margaret Thatcher and Theresa May –both of whom were from Liz's Conservative Party.
Before her 45 days shortest UK's Prime Minister new record, several others before her who had occupied the position without a tenure expiration date have also been considered short-lived. 
They were: 
•George Canning - 118 days
•Viscount Goderich - 143 days
•Viscount Goderich - 143 days
•Andrew Bonar Law - 209 days
•The Duke of Devonshire - 225
•The Earl of Shelburne - 265 days
•The Earl of Bute - 317 days
Described "as a very opinionated person" by her younger brother, Francis, in 2017 while recalling her teenage life in an interview with BBC World, Truss was said to have "the demeanor of a real adult compared to what we were at that age."
The 47-year-old claimed the flame of Margaret Thatcher: a discarded disposition following her 'lettuce' growth prophecy fulfillment. 
A publication, The Economist, on October 11 released a post that suggests that Liz Truss's tenure would be "roughly the shelf-life of a lettuce."
Liz Elizabeth Truss, born on July 26, 1975, in Oxford, United Kingdom, took over from Borris Johnson after defeating Rishi Sunak in a ballot of Conservative Party members and assumed office on September 6, 2022. 
Truss, as a teenager, was considered "very well-dressed compared to other 18 to 19-year-olds" by her university contemporary, Maurizio Giuliano, who met her for the first time at a Liberal Democrat event. 
Liz Truss was the eldest of three male children: Chris, Patrick, and Francis, born to John Truss and Priscilla Truss (née Grasby). 
John Truss; a pure mathematician at Leeds University, and her mother; a nurse and teacher, were described by Liz to be on 'the left of Labour," a UK political party that has played either the governing or main opposition party since 1922. 
Following her family's relocation to Paisley, Renfrewshire, in Scotland, at age four, Truss attended West Primary School; she later attended Roundhay Comprehensive School in the Roundhay area of Leeds. 
At age 12, Truss spent a year in Burnaby, British Columbia, where she attended Parkcrest Elementary School while her father taught at Simon Fraser University.
Truss, known as a studious girl with "geeky" friends, grew interested in social issues such as homelessness. She later studied Philosophy, Politics, and Economics at Merton College, Oxford, graduating in 1996.
Truss was of the Liberal Democrats wing, where she would later be elected president of the Oxford University Liberal Democrats and executive member of the national executive committee of Liberal Democrat Youth and Students. 
As a Liberal Democrat, Truss supported cannabis legalization, abolition of the UK's monarchy system of government, and kicked against Criminal Justice and Public Order Act 1994. 
Liz and O'Leary's union is blessed with two daughters, Liberty and Frances. Except for their birthday cake post on her Instagram, the Truss keeps their daughters away from the public eye. 
Liz added that her daughter, Liberty influences her leadership style while admitting that Frances assisted in her leadership campaign on the social media front.
Ms. Truss told Pienaar's Politics in 2018 that she had locked her daughter's phone in a box to stop her from using it too much, saying: 'I'm known as the phone jailer in our household.'
Known as the "phone jailer in our household," Ms. Truss told Pienaar's Politics in 2018 that she locks her daughter's phone in a box to restrict their screen time, 
Where does Liz Truss live?
Liz Truss lives in a 3-bedroom detached apartment in Thetford, a market town and civil parish in Norfolk, east of England. 
She and her family have lived in Thetford since 2010, allowing her to be close to her constituency of South West Norfolk. 
Liz Truss shuttle between her London second house and Norfolk; she also has a third house - A Chevening House apartment at a countryside mansion between Biggin Hill and Sevenoaks in Kent. 
Dominic Raab shared the apartment with Liz Truss have shared access to the property since she took over from him as Foreign Secretary in 2021.
Liz Truss Pre-Political Career
Before her political venture, Truss was a successful business executive. She worked for Shell from 1996 to 2000 and qualified for Chartered Management Account in 1999. 
She was later employed by Cable and Wireless, where she rose to the position of economic director before she left in 2005. 
Truss became a full-time deputy director of Reform in 2008 after losing her first two elections. She canvassed rigorous academic standards in schools, a greater focus on tackling serious and organized crime, and urgent action to deal with Britain's falling competitiveness. 
As a 'bookworm,' Truss had co-authored several books, including, The Value of Mathematics, Fit for Purpose, A New Level, and Back To Black: Budget 2009 Paper, among other reports.
Liz Truss Political Career
Liz Truss served as the chairperson of the Lewisham Deptford Conservative Association from 1998 to 2000. In 1998, she lost the contested Greenwich London Borough Council elections for the Vanbrugh ward, and again in 2002 for Blackheath Westcombe. 
She was later elected as a councilor for the Eltham South Greenwich London Borough Council election on May 4, 2006. 
Truss lost at the 2001 UK general elections, where she contested for the constituency of Hemsworth in West Yorkshire under the Labour Party, where she came distant second but increased her Conservative votes by 3.2%.
Before the UK general election, the parliamentary candidate for Calder Valley, Sue Catling, was forced to resign by the local Conservation Association; Truss again lost the seat to a Labour Party incumbent in the same West Yorkshire.  
Conservative leader David Cameron added Truss to the party's A-list, after which she won the South West Norfolk seat. 
Truss became a member of the constituency Conservative Association with 50% of the vote in the first round of the final against five other candidates.
From March 2011, she was a member of the Justice Select Committee, remaining on the committee until she was appointed a government minister.
Liz Truss later became a member of the Justice Select Committee, a position she held until she was appointed a minister on September 4, 2012, when she was appointed as parliamentary under-secretary of state at the Department for Education. 
Truss was later appointed secretary of state for environment, food, and rural affairs on July 15, 2014, replacing Owen Paterson. 
On July 14, 2016, Truss became the secretary of state for justice and lord chancellor in Theresa May's first ministry. 
Truss became the first woman to hold either position and the first female Lord Chancellor in the 1000-year history of the office.
After the United Kingdom general election, Truss was assigned the chief secretary to the Treasury on June 11, 2017.
She was later promoted to the position of secretary of state for international trade and president of the Board of Trade; again, after the resignation of Amber Rudd, Truss was additionally appointed minister for women and equalities.
On September 15, 2021, while Boris Johnson, the then Prime Minister, was reshuffling his cabinet, Truss was promoted from International Trade Secretary to Secretary of State for Foreign, Commonwealth, and Development Affairs.
Truss was later appointed as the British Government's chief negotiator with the EU following the resignation of Lord Frost in December 2021.
On July 10, 2022, Truss declared her intention to replace Boris Johnson as Prime Minister under the conservative leadership party. 
September 8, 2022, She was declared United Kingdom Prime Minster following Boris Johnson's resignation after she was duly elected leader of the majority Conservatives party in the Parliament. 
Queen Elizabeth II then received her at Balmoral Castle near Aberdeen, Scotland, the only prime minister not received by the Queen at Buckingham Palace. 
Why did Liz Truss resign as Prime Minister?
Truss resigned because she could not "deliver on the mandate" on which the Conservative Party elected her.
During her campaign, the third female Prime Minister of the United Kingdom promised to cut taxes for high-earning individuals and large corporations. 
However, Truss's finance minister, Kwasi Kwarteng, made a fatal misstep: Without any warning, he unveiled a significant shift in the country's economic strategy, which promises to slash taxes for the highest and biggest earners corporations—with no plans to pay for it.
Truss later fired Kwarteng, her very close friend, but the deed had been done. 
The disclosure immediately devalued the British pound, forcing the Bank of England to raise interest rates, and the cost of obtaining a mortgage increased. 
Inflation—already at record highs—raised the cost of living further, shredding the Conservative Party's reputation for fiscal responsibility.
Truss later resigned following her inability to keep her promises during her campaign to cut taxes and reduce energy costs, which were already at an all-time high.
Liz Truss has handed her resignation letter to King Charles III and advised that her successor be named the following week; till then, she intends to remain caretaker Prime Minister. 
Rishi Sunak, Boris Johnson, Penny Mordaunt, and Jeremy Hunt were the four possible successors of Liz Truss. However, Boris and Penny later pulled out of the race, making it easier for Rishi to get the seat. Rishi Sunak became the succeeding prime minister of the United Kingdom on the 25th of October, 2022.
Lizz Truss's resignation speech
Lizz Truss's resignation speech read thus:
I came into office at a time of great economic and international instability. Families and businesses were worried about how to pay their bills.
Putin's illegal war in Ukraine threatens the security of our whole continent. And our country had been held back for too long by low economic growth.
I was elected by the Conservative party with a mandate to change this.
We delivered on energy bills and on cutting national insurance. And we set out a vision for a low-tax, high-growth economy that would take advantage of the freedoms of Brexit.
I recognize, though, given the situation, I cannot deliver the mandate on which I was elected by the Conservative party. I have therefore spoken to His Majesty the King to notify him that I am resigning as leader of the Conservative party.
This morning, I met the chair of the 1922 Committee, Sir Graham Brady. We have agreed there will be a leadership election to be completed in the next week.
This will ensure we remain on a path to deliver our fiscal plans and maintain our country's economic stability and national security.
I will remain as prime minister until a successor has been chosen.
Thank you.
Money Transfers estimated the former Prime Minister Truss's net worth to be £ 8.4 million.
Liz Truss has accumulated wealth over the years thanks to the various political offices she has held.