Brother's turn political enemies; Soludo's rift against Peter Obi
It is understandable when an enemy is against you, but when a brother fights you, there's more to it than meets the eye.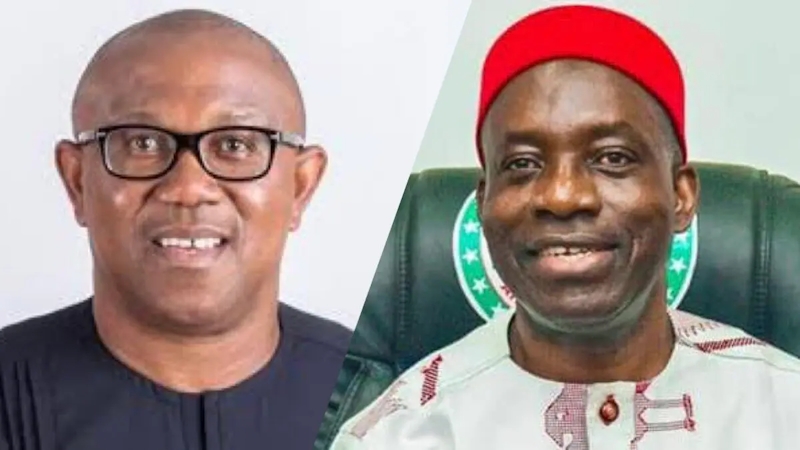 In the words of Nigeria's Music living legend, 2baba, "secret society na in break us all." A lot of breaking and crushing in the political space is becoming vivid as Nigerians move toward electing their next president in the February 2023 presidential elections.
Unlike the secret society mentioned by the 'Only Me' crooner, it's the political differences that are breaking our ranks and turning brothers into overnight sworn enemies as everyone heeds their convictions in the forthcoming 2023 presidential elections.
Such is the case of former Anambra State Governor Peter Obi, who is a presidential candidate running under the umbrella of the Labour Congress (LC), and his brother, the current governor of the state, Charles Soludo, whose different paths taken in the forthcoming elections led to brutal word-cutting comments.
According to Great Nnamdi Azikwe, in the game of politics, there are no permanent enemies or permanent friends, only permanent interests. The current rift between Peter Obi and Soludo indicates Great Zik's words.
It is understandable when an enemy is against you, but when a brother fights you, there's more to it than meets the eye.
Soludo, a brother (not by blood) to Labour Party Presidential Candidate Peter Obi, has openly declared that Obi cannot win the 2023 presidential elections. He opined that "there is no credible pathway for him (Peter Obi) near the first two positions, and if care is not taken, he won't be even near the third position."
Why would Soludo vehemently insist his brother won't win the 2023 presidential elections? Could it be Jealously, Partisan, or Political Blasphemy? We'll find out more in this article.
Peter Obi and Soludo; Brothers but political enemies
The first jab Solduo threw at Peter Obi was demeaning his performance as a governor with the $12 million investment "worth nothing" remark. Soludo claimed the $12 million investment Peter Obi made is now valued at $3 million, meaning Peter Obi is a bad manager of resources.
Raged Obi-Datti supporters and supporters of the Obi-Datti presidential bid descended on the former Governor of the Central Bank of Nigeria, accusing him of being jealous of his brother, who is vying for the federation's number one seat.
"I thought they were brothers from the same tribe—Ndi'gbo"? Curious Nigerians ask why Soludo would debase his brother in public. Others query Soludo's intention as the political clime in the nation, based on zoning, believe it is the turn of the Igbos to become president.
Maybe Soludo has a different opinion, or, as he said, he's just stating "facts." Whichever way, Soludo has a thing against Peter Obi and his 2023 presidential bid.
While Soludo maintained that Peter Obi is a brother, not a friend, but only shares a different political view from him, his comments on the LP flag bearer may greatly affect his chances at the polls come February 25, 2023. Soludo even made it clear in a terse statement that "Peter Obi knows that he can't and won't win."
To better understand how these hiccups between Peter Obi and Soludo got this messy, one needs to trace the genesis of the hullabaloo.
Peter Obi and Charles Soludo
APGA, Soludo and Peter Obi
What seems to have degenerated into a brew between Peter Obi and Soludo began when the former refused to contest for the presidential election under the party that brought his political ambition to fruition.
Soludo's political trajectory took a different turn from Peter Obi's when the latter left APGA in 2013 for the then-ruling party, the Peoples Democratic Party, after his tenure as governor of Anambra ended.
Discontented with the move, Soludo appealed to Obi to return to APGA and run for the presidency, but he declined.
Peter Obi further angered Soludo when he led the PDP campaign against APGA in the last two governorship elections in Anambra in 2017 and 2021, but lost.
In 2017, Peter Obi visited Soludo, asking him to contest the governorship under PDP to unseat the incumbent, Willie Obiano, the latter declined, and APGA won the elections.
On March 8, 2022, during the Emeka Anyaoku lecture at Nnamdi Azikiwe University, Soludo asked Peter Obi to contest for the presidency under APGA, not to win but to give the Igbos a national awareness that they also can run the affairs of the nation if given a chance. However, Peter Obi said "he expects APC to unravel while PDP would be the "only one" standing."
Shocked, Soludo said he only heard in the news that Peter Obi had defected to Labour Party (a party with literally zero structures) after requesting to use the Anambra State government house facility to launch his presidential bid under PDP a few weeks earlier.
The duo spoke after Peter Obi emerged as the Labour Party principal, and they had "frank discussions." Requesting for Soludo's aid in his presidential bid, Peter Obi asked that he (Soludo) allow a "level playing field" and allow the "people to decide" since they are both in different political parties.
Soludo, who in his statement maintained he had kept his end of the bargain by providing the atmosphere for Peter Obi and his supporters to operate freely in Anambra without any molestation, said he even allowed Peter Obi's billboards, which are, in many places, wrongly placed almost on the roads.
Dounsing the integrity of the Labour Party flag bearer, Soludo said Peter Obi had declared that APGA was the vehicle through which Igbos would organize to engage the rest of Nigeria politically, and also swore to Ojukwu that he would quit politics the day he leaves APGA.
Nothing breaks any relationship more than betrayal. In Soludo's account, Peter Obi betrayed him and his people, the Ndigbos, when he left APGA for PDP and is now in Labour Party, doing in LP what they begged him to do in APGA.
Scoring Peter Obi's performance as former governor
Soludo hinted that Peter Obi was not the best governor to have ever governed Anambra, further undermining his chances in the 2023 Presidential Elections.
In fact, he stated that a bishop recently publicly advised him to kindly construct the "Ngige type of quality roads," stating that the ones done by Peter Obi had been washed off by erosion while Ngige's remained.
Soludo also stated that when Peter Obi was governor of Anambra State, poverty in the state more than doubled. He noted that poverty grew from less than 25% in 2005 to about 53% under Peter Obi in 2010/2011 but fell under Willie Obiano to 14.78% in 2020.
The former CBN governor further took a swipe against Peter Obi to quell the energetic drama of his supporters, who had decorated him the best amongst the candidates, as he ridiculed the investment Obi made in Anambra before his departure as governor.
Soludo said that Peter Obi's $12 million investment was a waste of money and questioned why the state should save when dozens of schools didn't have roofs or classrooms, local governments didn't have roads to get to them, and hospitals didn't have doctors or nurses.
Querying Peter Obi's resource management capability, Soludo said he knows when to save as he built Nigeria's foreign reserves from the $10 billion he inherited as CBN governor to an all-time high of $63 billion, which was after Nigeria's $12 billion external debts, and despite going through an unprecedented global financial crisis, he still left about $45 billion.
Alleging Peter Obi to be fooling his supporters, Soludo revealed that his discontent against his predecessor was not just because of political differences but more about stating facts, which in this case, will jeopardize Obi's presidential bid. Still, he would rather shelve the sword than use it against a brother.
"Peter Obi won't win the 2023 presidential election"
The former CBN governor has made it explicitly clear that Peter Obi won't win the presidential elections he's contesting and even stated that he (Peter Obi) is aware of that.
Soludo claimed that he is aware of the antics Peter Obi was playing as he's only paving the way for the All Progressives Congress Candidate, Bola Tinubu, to cart home the win come 2023 easily.
In his analysis, Soludo said the five South East States were united for PDP but gave only 1.6 million votes, equivalent to the votes that Kano state gave to Buhari. With the cold calculation of democracy which is obviously a game of numbers, Peter Obi might lose the 2023 Presidential elections, as cited by Soludo.
Soludo further said one of the five South East states had dropped Peter Obi's candidacy, meaning the Labour Party standard bearer's chances of winning the 2023 presidential elections are dwindling in contrast to the uproar on social media promoting the candidacy of Peter Obi.
In his call, Soludo had tasked the Ndigbos with a plan B if Peter loses in February 2023, which according to him, he (Peter Obi) is "certain" to fail.
He has urged his people to plan, as only those who plan can control the future. "Ndigbo, wake up and smell the coffee!" he called.
While Soludo does not support, endorse or believe in the presidential bid of Peter Obi, he wishes him or APGA's presidential candidate, Prof Peter Umeadi, to win. Still, he's certain that none of them stands a chance with the current political tide.