Best Italian restaurants in NYC, New York and their top dishes [2022]
Eating fries and burger is the hallmark of the typical New Yorker. The best Italian restaurants in NYC will expose you to a world proper meals.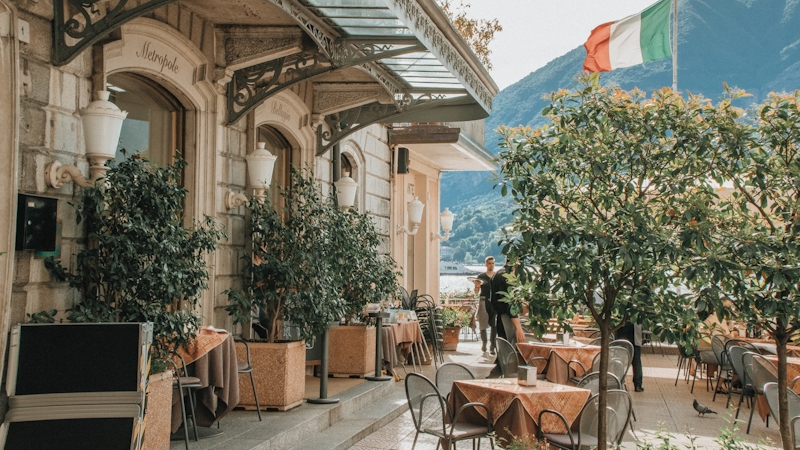 NYC is one of the world's most attractive and famous tourist destinations. It provides a variety of activities and options suitable for all tastes, one of which are the best Italian restaurants.
New York has experienced a true renaissance in Italian food during the last 15 years. Today, Italian cuisine and wine culture reign supreme in NYC, from modest trattorias to opulent restaurants.
Staying in NYC will expose you to the monotony of burgers and hotdogs, a tradition that will arouse a strong craving for handmade meals, particularly for foreigners, so this list of the best Italian restaurants in NYC will prove helpful. Also included are recommendations and descriptions of restaurants serving exceptional Italian food in NYC.
Best Italian restaurants in New York City (NYC)
1.
Rafele
Address: 29A, 7th Avenue, South New York, NY 10014
The Rafele restaurant best exemplifies the Italian culinary masterclass in NYC due to its high-quality food and friendly environment. Its exceptional cuisine is the product of the enthusiasm of Raffaele Ronca, who was born and raised in Naples and has always cherished delicious food.
After working for many years at his uncle's Neapolitan restaurant and preparing fresh pasta with his mother, Raffaele came to the United States at age 21 to export his great enthusiasm for Neapolitan specialities.
The most outstanding dish offered at the Rafele restaurant is undoubtedly the pizza, served on a wooden cutting board and having the distinctive flavour of Naples. Octopus is likewise delectable, while pasta all'amatriciana and carbonara should be sampled as starters.
2.
Carmine's
Address: Carmine's Times Square, 200 West 44th Street, New York, NY 10036
Carmine's restaurant in Theatre District is the NYC eat-in to go if you need to fill your stomach with Italian food that exceeds your expectations. This renowned Italian-American restaurant is better suited for families than romantic encounters.
Carmine's brings the flavours of Southern Italian food to NYC, complemented with prompt and polite service in an inviting atmosphere. This restaurant is constantly crowded, giving the impression of an old American film.
The restaurant's particular feature is the enormous rations, as pre-COVID a pasta dish may feed up to three people. The grilled peppers are delicious, but we highly recommend the huge and flavorful steak.
Among the first items worthy of attention is rigatoni with meatballs, a hefty serving of pasta accompanied by flavorful meatballs.
3.
Da Marino NYC
Address: 220 W 49th St, New York, NY 10019
The Italian restaurant Da Marino NYC, situated near Times Square, is one of Italy's top culinary exports and one of the best restaurants in NYC. It was awarded the TripAdvisor Certificate of Excellence in the years between 2013 and 2015 due to the efforts of its Calabrian-born proprietors.
The cuisine's strength is its fresh and well-chosen ingredients, to which is added a distinct and particularly Italian ambience. 
Their most recommended dish is gnocchi with tomato and basil, which is both light and delicious.
4.
Gnocco
Address: 337 E 10th St, New York, NY 10009
It is difficult not to fall in love with the patio of the Gnocco restaurant in NYC, the ideal spot for lunch or brunch on the weekend. When it transitions to twilight, dinner is served in a wonderfully beautiful atmosphere: gentle lighting in a European-style neighbourhood.
You will discover an actual Italian grandmother in the kitchen at Gnocco, and, like in any grandmother's house, you will get a warm greeting, big servings, and home-cooked meals. The menu has Italian antipasti (sample the fried dumplings with assorted cured meats), first meals such as fresh tagliolini with melted parmesan and black truffle, and second courses like pork fillet with balsamic vinegar and parmesan flakes. And last, there is pizza. 
If you want to end your encounter on a high note, order one of their homemade desserts.
5.
Patsy's
Address: 236 W 56th St, New York, NY 10019
Since 1944, Patsy's has been an exceptional restaurant in Midtown Manhattan. Being one of the best Italian restaurants in NYC, this highly successful family business has photographs on the walls depicting the many celebrities who have dined there over the years.
Worthy of note is the the lovely environment and the staff's incredible professionalism. Clacified recommends the first dishes, which include spaghetti alla puttanesca, tortellini, and cannelloni with meat sauce since they represent traditional Italian cuisine.
6.
Basso 56
Address: 11 King St, Chappaqua, NY 10514
The Basso 56 restaurant is a stone's throw from Times Square and provides swift and courteous service. Sampling Chef Paolo Catini's specialties, Basso 56 is one of the best Italian restaurants in NYC, due to the restaurant's friendly and restrained atmosphere.
The restaurant uses only fresh products, and its wine list is distinctive. The rations are rather big, and the risotto with mussels and squid is our top choice for quality and quantity. 
Also delicious is the fried fish, especially the appetiser of cuttlefish.
7.
La Masseria New York City
Address: 235 W 48th St, New York, NY 10036
Source: lamasserianyc.com
La Masseria NYC is a pleasant establishment that serves solely Italian food. As the name suggests, the three proprietors wanted to evoke the countryside of Apulia as a symbol of consistently fresh food from land and sea.
The menu is superb: Sunday schiaffoni with sauce and ragù, but our top choice is the beef rib, which should be sampled between the main courses, maybe with a side of outstanding fennel au gratin.
8.
Il Punto
Address: 507 9th Ave, New York, NY 10018
Source: ilpuntorestaurant.com
In a section of NYC where it may be challenging to locate a great Italian restaurant, Il Punto provides an atmosphere that will transport you to Calabria while providing meals that transcend Mediterranean culinary history.
Antonio Russo, a Sicilian, manages the Il Punto restaurant in NYC, which is open seven days a week and serves the city's residents superb Italian cuisine.
The Calabrian chef enhances the appeal of the classic cuisine of southern Italy by adding a special touch. This New York restaurant offers stroncatura, a unique kind of pasta from Calabria.
It is possible to order a pre-show supper at Il Punto, making it the ideal venue to dine before a musical. The restaurant is about ten minutes on foot from Broadway theatres.
The service is kind and competent, and the menu offers a variety of selections. Try the plate of cold meats and cheeses complimented with artichokes, sun-dried tomatoes, and peppers, all of which are traditional Sicilian ingredients. 
9.
Tony's Di Napoli
Address 1: 147 W 43rd St, New York, NY 10036
Address 2: 1081 3rd Ave, New York, NY 10065
Since 1959, Tony's Di Napoli has had great success thanks to the Neapolitan heritage that forms the foundation of its specialities. The rations are abundant, and the food is well-prepared and diverse. 
Excellent rigatoni with tomato, mozzarella, and eggplant is their hallmark dish.Between the main courses, we recommend the veal, particularly when paired with a must-try side dish of fried battered zucchini. To end on a sweet note, you might also want to try the delicious little cannoli.
10.
Il Corso
Address: 54 W 55th St, New York, NY 10019
Opening a possibility alone to order fish stew in New York, makes Il Corso one of the best Italian restaurants in NYC. This restaurant in Midtown Manhattan provides daily specials in addition to the regular menu. 
For maximal satisfaction, try the Milanese cutlet, the restaurant's speciality. The food is fresh and natural, and the service is courteous. Il Corso is one of the top restaurants in New York City because it recreates the flavours of Stivale.
11.
San Marzano
Address: 117 2nd Ave, New York, NY 10003
Source: www.sanmarzanonyc.com
San Marzano restaurant in East Village is an outstanding and well-maintained establishment. The menu is well-executed, the pasta is made with fresh ingredients along with a variety of sauces, and the prices are affordable.
This Italian restaurant is highly recommended if you want a place to dine near the STOMP theatre, since it is just a few feet away.
12.
Azalea
Address: 224 W 51st St, New York, NY 10019 
Source: azalearistorantenyc.com
The Azalea is a small but elegant Italian restaurant near Times Square in NYC. Within their ranks are attentive and affable employees ready to meet consumers' various demands. In the summer, outdoor dining is also available.
Gluten-free options are available, and the food is of exceptional quality and prepared with ingredients of the highest standard.
Clacified recommends the beef ravioli and parmigiana from the menu's various offerings. All the toppings are pretty light and tasty.
13.
Via Della Pace
Address: 87 E 4th St, New York, NY 10003 
Via Della Pace is an exceptional Italian restaurant with a Roman manager who was able to reproduce a slice of Rome in NYC. The setting is incredibly well maintained, and the personnel are polite and attentive.
The items are all of the highest quality, especially the Roman specialities such as the outstanding bruschetta and carbonara.
In addition to the excellent parmigiana, the menu has a variety of other delectable Italian delicacies.
14.
Antica Pesa
Address: 115 Berry St, Brooklyn, NY 11249
Very few Italian restaurants in Brooklyn, NYC are better than Antica Pesa. Although the meals are a little on the pricier side, they are remarkably good. Francesco Panella, the star of the Brooklyn Man, is the business's proprietor.
15.
Barbetta
Address: 321 W 46th St, New York, NY 10036
Source: barbettarestaurant.com
Barbetta, New York City's oldest Italian restaurant, opened its doors in 1906, but its wonderful menu has kept it relevant for more than a century. Barbetta's affordably-priced menus are a big part of why it's remained one of NYC's best Italian restaurants for so long.