Top 10 richest politicians in Nigeria 2023 and their net worths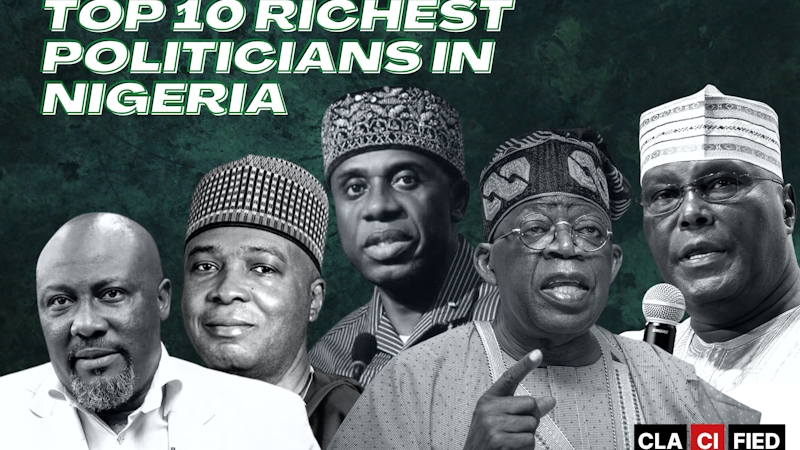 You might wonder, "Who is the richest politician in Nigeria?" You are not the only one, as this is a question that numerous people ask, especially the youth. The question is probably related to the fact that the country is blessed with natural resources, and the politicians live affluent lives.
It is also a known fact that Nigeria has arguably the richest set of politicians in the world because they are the highest-paid public officers who also happen to have access to the nation's wealth through contract awards, etc.
The richest politicians in Nigeria will include business and civil servants who, at some point in their life, have previously held an elected or public office.
Here is the list of the top 10 richest politicians in Nigeria and their net worth.
Bola Ahmed Tinubu, the Jagaban of Lagos, was born on March 29th, 1952, in Osun State to the Tinubu family. Tinubu also goes with the name Asiwaju, the tribal aristocratic title of Asiwaju, which was bestowed upon him by the Oba of Lagos.
Tinubu graduated with a bachelor's degree in business administration from Chicago State University in 1976.
Without a doubt, Tinubu is Nigeria's wealthiest politician as he has controlled the richest state in Nigeria as a Governor of Lagos state and allegedly still holds considerable influence till the present day.
Before becoming the governor of Lagos State from 1999 to 2007, Bola Tinubu served as a senator for the Lagos-West senatorial district from 1992 to 1993. Since then, Tinubu has participated in Nigerian politics and is now one of the most influential figures in the nation. 
Tinubu is the All Progressives Congress's national leader and presidential candidate for the 2023 elections. Tinubu allegedly has vast estates spread over Nigeria, the most valuable of which is a home in Ikoyi, Lagos, valued at N650 million.
Tinubu's collection includes a 600 million dollar G-wagon, two more Mercedes-Benz, a Range Rover, and other expensive vehicles. Besides his $60 million Bombardier Global Express XRS private plane, Tinubu has other assets and an estimated net worth of $8.4 billion.
2.
Ibrahim Badamasi Babangida
Ibrahim Badamasi Babangida 
The second-richest politician in Nigeria is General Ibrahim Babangida. Babangida was born on August 17, 1941, in Nigeria state, Nigeria.
Babangida also known as IBB, "Maradona," or "The Evil Genius" served as a former head of state in Nigeria, controlling the Federal Republic of Nigeria from August 27, 1985, until his retirement in August 1993. The former army general presided over the Armed Forces Ruling Council from 1985 to 1993 and served as the Chief of Army Staff from 1984 to 1985 before he orchestrated the overthrow of Muhammadu Buhari in a palace coup d'état.
As one of the richest politicians in Nigeria, he has expensive cars and mansions across the globe. IBB currently has a net worth of $5 billion.
Patrick Ifeanyi Ubah is a Nigerian businessman and entrepreneur from Anambra state; the businessman turned politician was born on September 3, 1971.
Ifeanyi Ubah has always been a businessman and gained vast wealth through his multiple business holdings. Ubah is ranked among the richest politicians in Nigeria because he recently got into an elective position.
Since 2001, he has served as Capital Oil and gas industry's founder and CEO. Before expanding his business efforts into other European countries, including Belgium and the United Kingdom, Ifeanyi started exporting motor tires and spare parts, primarily to West African nations. Ubah is a significant player in the nation's oil and gas sector; his riches and power have made him a household name in Anambra state.
Ifeanyi Ubah founded The Authority Newspaper, a daily newspaper published in Nigeria, and owns Ifeanyi Ubah F.C. This football team was formerly known as Gabros International Football Club until being purchased by the current owner.
As stated earlier, Patrick Ifeanyi Ubah has veered into politics as the senator representing Anambra South Senatorial District in the Nigerian senate. Like every rich politician, Ifeanyi Ubah also has expensive cars and mansions. Currently, Patrick Ifeanyi Ubah has a net worth of about $1.7 billion.
Chief Olusegun Obasanjo, known as OBJ or Baba, was born on May 5, 1937, and hailed from Otta in Ogun State.
The former Army General was fortunate to hold the office of Nigerian Head of state twice; first, he served as the nation's military leader from February 13, 1976, to October 1, 1979, and as democratically elected President from May 29, 1999, until May 29, 2007.
Apart from being a politician, Obasanjo considers himself a farmer and lover of agriculture, which was why he built Otta Farms, one of the biggest farms in Nigeria. Obasanjo is one of Nigeria's richest politicians who has built up a sizable fortune over the years and is worth 1.6 billion dollars.
Rochas Okorocha was born on 22nd September 1962 and hailed from Imo state. Rochas worked as a vendor in Barkin Ladi, Jos, as his parents were not well-to-do. Rochas Okorocha belongs to those breed of politicians who built themselves from the ground up.
Before entering politics, he had achieved some level of success and was able to give back to communities through the Rochas Foundation. The philanthropy was witnessed in several special schools dispersed throughout Nigeria, and he offered scholarships to the country's less fortunate children; he founded this foundation.
Rochas Okorocha entered public life and served as a member of the National Constitutional Conference and a commissioner. Okorocha once aspired to become the governor of Imo State as a member of the People's Democratic Party (PDP) in the party's primary elections when democracy was restored in 1999, but Achike Udenwa defeated him.
Rochas went into politics again, this time in 2007, and quickly amassed a large following, which led him to compete for the governorship in the general election of 2011 under the All progressives Grand Alliance (APGA) and eventually won the election.
Currently, Rochas Okorocha is the senator representing the Imo west senatorial district under the flag of the All Progressive Congress. Rochas Okorach is among the richest politicians in Nigeria and is estimated to have a net worth of about $1.4 billion.
Atiku Abubakar made the list of the richest politicians in Nigeria with vast wealth and a business empire. Atiku Abubakar was born in northern Nigeria on November 25th, 1946, to a Fulani family.
Atiku Abubakar spent twenty years working for the Nigeria Customs Service (NCS), rising through the ranks to take the second-highest position, which was Deputy Director at the time. In April 1989, he left his position within the NCS to become a full-time businessman and politician. 
Atiku Abubakar started his life in politics running as a governor for the former Gongola State, a position he could not secure at the time. However, in 1999 Atiku Abubakar was drafted into national politics as a vice presidential candidate for the People's Democratic Party (PDP) with Olusegun Obasanjo as the presidential candidate. The duo won and spear-headed the affairs of Nigeria from 1999-2007.
Although rich, Atiku Abubakar has unsuccessfully attempted to win Nigeria's presidency five times without success (1993, 2007, 2011, 2015, and 2019). Atiku Abubakar is currently aspiring to become the country's next President under the umbrella of the PDP.
Atiku Abubakar has acquired vast wealth through hs conglomerates and currently has a net worth of $1.4 billion.
Orji Uzor Kalu is among the Nigerian politicians whose wealth precedes their political careers. The Abia state statesman was born on the 21st day of April 1960.
Orji Uzor Kalu started his business at 19 with the $35 he borrowed from his mother. Since his business journey, his interests have spread across many sectors, including but not limited to publishing, advertising, banking, oil and gas, and aviation.
Orji Uzor Kalu once served as the governor of Abia State, from where he proceeded to be a senator representing the Abia North Senatorial District and serving as Nigeria's Senate's Chief Whip; a position he currently holds
Orji Uzor Kalu is one of the richest politicians in Nigeria, and his name can also be found among the richest men and women in Nigeria. Thus, his net worth is $1.1 billion.
Alhaji Ahmadu Adamu Mu'azu was born on June 11, 1955, in Boto, Tafawa Balewa Local Government Area, Bauchi State, Nigeria.
Adamu Mu'azu worked with the Ministries of Health and Social Welfare, Youth, Sports, and Culture in Kano State as a Quantity Surveyor/Project Manager. He later held the office of National Chairman of the Peoples Democratic Party, PDP, and was a two-term governor of Bauchi State.
Alhaji Ahmadu Adamu Mu'azu ranks 8th on the list of Nigeria's richest politicians, with a Net worth of $895 million.
Dino Melaye is from Kogi state and was born on 1st January 1974. Dino Melaye owns numerous investments, most of which are situated abroad. For instance, he owns fast food franchises and McDonald's in the U.S., among other similar investments.
Dino Melaye is best known for his tenure as a Kogi West Senatorial district senator before losing his senator position. Dino Melaye was a caustic critic of succeeding presidents and one of the most outspoken senators.
Dino Melaye is one of the most controversial individuals in Nigerian politics, and during the past few years, he has frequently been a hot topic on social media.
Dino Melaye is still active in the political space and was selected to serve as the Atiku Abubakar campaign's spokesperson for the 2023 elections. Dino Melaye, arguably the biggest car collector in Nigeria, has a well-known collection of expensive vehicles and a net worth of about $800 million.
Rotimi Amaechi was born on 27th May 1965. Amaechi served as governor of Rivers State from 2007 to 2015. Rotimi Amaechi was the director general of the Buhari re-election campaign in early 2019 and is currently the Minister of Transportation in Nigeria.
Rotimi Amaechi has a fleet of expensive cars, including a rare Mercedes-Maybach Vision 6, a Mercedes Amg G63, a Mercedes S550, a Land Rover Discovery, and a Lexus LX 570, amongst others. 
Rotimi Amaechi is the tenth richest politician in Nigeria in 2022, with a net worth of $780 million.