Cristiano Ronaldo's net worth and salary 2022: First billionaire in football
Do you know how much Cristiano Ronaldo, the world's first billionaire football player, is worth? We have gathered everything you need to know about Ronaldo's net worth in 2022.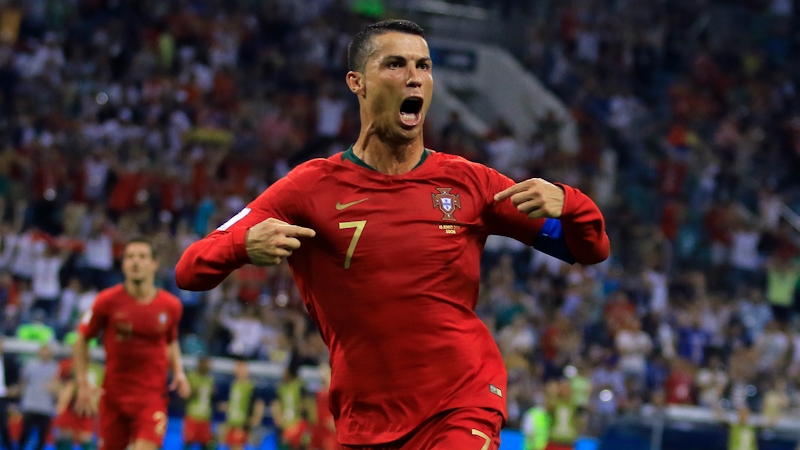 Cristiano Ronaldo has made fortunes in his football career following his successful stints at several European clubs.
The former Real Madrid player, who holds the record for the all-time highest goalscorer in football history with over 800 career goals, is also known as one of the wealthiest athletes in the world.
Playing for top European clubs like Manchester United, Real Madrid, and Juventus has allowed Ronaldo to amass one of the highest paychecks in football, earning him a reasonably substantial net worth.
Ronaldo's stylish lifestyle, which has seen him sign numerous endorsement deals, has also contributed to his massive net worth. In addition to his salary and endorsements, Ronaldo is an entrepreneur who has dabbled in various businesses that earn him daily fortunes.
Despite being 37 years old, Ronaldo has remained one of the highest-paid athletes in the world since his return to the Premier League.
We have put together all you need to know about Cristiano Ronaldo's net worth, salaries, endorsements, brands, businesses, cars, and other luxury properties he owns.
Cristiano Ronaldo is the world's leading goalscorer with 818 senior career goals
One of the most talked-about topics in football, Cristiano Ronaldo's net worth ranks among the highest in global athletics, owing to his large income from various sources and highly desirable and expensive assets.
Ronaldo's high salaries, endorsements, and social media handles (Facebook, Twitter, and Instagram) have massively contributed to his vast net worth in 2022.
In 2021, Cristiano Ronaldo became the first celebrity to reach 500 million followers across Facebook, Twitter, and Instagram. In 2022, the number of CR7 followers on social media increased to over 690 million.
Ronaldo, who owns a slew of businesses under his brand CR7, has also earned significant income, which has played a huge role in his increased net worth in 2022.
With huge earnings from these sources, Ronaldo has a net worth of $500 million in 2022, which is $20,000 more than the previous year.
2.
Ronaldo's weekly salary
Cristiano Ronaldo's return to Manchester United in 2021 saw him take a pay cut compared to his earnings at Juventus over three seasons.
According to the Daily Mail, the Portuguese's surprise deadline-day return to the Theatre of Dream on a two-year contract last summer reduced his salary to a lower fee of £480,000 per week. Ronaldo's current weekly wage at Manchester United is £20,000 less than his £500,000 weekly wage at Juventus.
Despite the pay cut, Ronaldo is currently Manchester United's highest earner upon his return, surpassing goalkeeper David de Gea.
Ronaldo's weekly salary makes him the highest-paid Premier League player, surpassing Manchester City midfielder Kevin De Bruyne, who previously topped the list.
Ronaldo has scored 27 goals for Manchester United since his return to Old Trafford
3.
Ronaldo's monthly salary
Ronaldo makes £480,000 a week, which adds up to over £1.9 million a month, even without bonuses. The staggering form of the Portuguese over the years continues to keep him in high esteem despite his age.
Ronaldo, 37, and his agent, Jorge Mendes, have completed many deals that continue to keep the legendary striker among the top earners in football.
4.
Ronaldo's salary per year
Ronaldo's weekly salary is quite a vast sum, and it will be interesting to know how much the superstar receives annually. Cristiano Ronaldo's paychecks in a year amount to over $115 million, equivalent to £100 million (₹9370).
According to Forbes, Ronaldo earns a $60 million base salary and $55 million from different endorsements, including his lifetime contract with the popular brand Nike and contracts from Delivery Hero, Herbalife, MTG, Unilever, and his new joint contract with his long-term rival Lionel Messi with Louis Vuitton.
Cristiano Ronaldo is the third highest-paid athlete in 2022, behind his supposed rival Lionel Messi ($130 million) and the famous basketball player LeBron James ($121 million).
Ronaldo is also ranked the third-highest-paid soccer player behind Paris Saint-Germain duo Kylian Mbappé and Lionel Messi, a huge sum that has increased his net worth in 2022.
5.
Ronaldo's Instagram earnings
With over 495 million followers, C. Ronaldo is the most followed celebrity on Instagram. His following of 237 million has skyrocketed in the last five months.
His return to the Premier League after 13 years could be attributed to the massive increase in his followers as well as his fashionable personality, which has landed him numerous contracts.
Ronaldo's Instagram is one of his lucrative sources of income, earning him an estimated £1.72 million per sponsored post, a sum that has significantly increased his net worth and helped him rank as the third-highest-paid player in 2022.
Besides making a difference in football, C. Ronaldo is also a great entrepreneur who owns several businesses that supplement his base salaries and earnings from social media.
Ronaldo owns six profitable businesses, including Pestana CR7, a joint venture with Pestana Hotel Group. He also owns two hotels in Madeira and Lisbon.
Known as one of the most fashionable athletes, Ronaldo has also dabbled in clothing and perfume production. He owns CR7 Denim, a jeans production company, and a joint venture with Denali to produce CR7 blankets.
Cristiano Ronaldo, Rafael Nadal, Pau Gasol, and Enrique Iglesias own shares in Grupo Mabel Capital, the company behind the trendy restaurant Zela.
The Portuguese also signed a deal in 2016 to open a CR7 fitness centre, which he plans to expand to different places worldwide.
Ronaldo owns a private jet rental business that charges between 6,000 and 10,000 euros per hour. Cristiano Ronaldo's most recent business venture is a hair clinic in which he has a 50% stake.
Pestana CR7 hotel is located in Portugal
Cristiano Ronaldo owns a private jet he rents out when not in use. Sources report that the superstar previously listed the luxury 10-seater jet for sale to purchase another new craft, but the private jet has yet to be sold.
The Ronaldo luxury private jet has free Wi-Fi and is outfitted with a bed and kitchen appliances for cooking while in flight.
8.
CR7 brand and net worth
According to Daniel Sa, director of the Portuguese Institute for Administration and Marketing (IPAM), Cristiano Ronaldo's famous CR7 brand is the most popular in Portugal, alongside Port.
The CR7 brand is a diverse investment firm that has ventured into various products, such as hotels, clothing, footwear, perfumes, fitness centres, salons, and others. The brand is worth over 100 million euros, thanks to collaborations with companies like Pestana, 7egend, Insparya, Nike, ZujuG, MTG, Clear, and many more.
The CR7 brand has significantly increased Portuguese market revenue, helping the country overcome its economic crisis.
9.
Ronaldo's weekly salary at Real Madrid
Ronaldo's salary earnings at Real Madrid during his nine-year successful stint with the Spanish La Liga side have remained a topic of great contention to this day.
We have compiled all the relevant information on Ronaldo's weekly pay at Real Madrid, which helped boost his net worth and made him the first billionaire in football history.
When Ronaldo moved to Real Madrid in 2009 on a record deal of £80 million, he became the club's highest-paid player, earning an annual salary of £21 million, which increased by 25% each season. In his subsequent years at the Spanish club, Ronaldo's additional contract renewals saw him earn huge sums of money that increased his net worth.
Below is an estimated list of Ronaldo's weekly salary in his nine years at Real Madrid.
Ronaldo's weekly salary at Real Madrid

| Year | Weekly Salary |
| --- | --- |
| 2010 | £228,750 |
| 2011 | £274,500 |
| 2012 | 320,250 |
| 2013 | £551,436 |
| 2014 | £487,507 |
| 2015 | £468495 |
| 2016 | £564960 |
| 2017 | £584,710 |
10.
Ronaldo's cars and houses
Cristiano Ronaldo is one of many football players who enjoy a lavish lifestyle off the field, purchasing expensive cars and homes.
10.
1 Ronaldo's cars
Examining Cristiano Ronaldo's lavish lifestyle, the Portuguese superstar has over 22 collections of pricey luxury automobiles valued at over $19 million, including:
Bugatti Centodieci $9.9 million
Buggati Chiron - $2.15 million
Buggati Veyron - $1.7 million
McLaren Senna - $1 million
Lamborghini Aventador LP 700-4 - $318,000
BMW M6 - $109,400
Bentley Continental GT - $220,000
Bentley Flying Spur - $313,601
Aston Martin DB9 - $200,000
Ferrari 599 GTB Fiorano - $310,000
Ferrari 599 GTO - $385,000
Ferrari F430 - $300,000
Mercedes G-Class - $130,900
Mercedes-Benz C220 CDI - $70,650
Mercedes-Benz C-Class Sports Coupe - $47,850
Rolls Royce Phantom - $400,000
Rolls-Royce Cullinan - $900,000.
Maserati GranCabrio - $140,000
Porsche Cayenne -$77,500
Porsche 911 Carrera 2S Cabriolet -$129,000
Porsche Cayenne Turbo - $130,000
Audi Q7 - $55,800
Audi RS6 - $116,500
Cristiano Ronaldo poses in front of his Rolls Royce Phantom
McLaren Senna is among Cristiano Ronaldo's luxury cars
10.
2 Ronaldo's houses
Ronaldo is as enthusiastic about luxury homes as he is about cars. Ronaldo has also made some lucrative investments in real estate around the world.
Ronaldo currently owns eight houses in several countries, including one in La Finca Real Madrid in Spain and one in Avenida de Liberdade in Lisbon, worth over seven million euros.
Ronaldo also owns a flat in Lisbon's Rua Castilho, a three-bedroom apartment in Manhattan's Trump Tower, seven stories in his birthplace Madeira, another in Marbella, a home in Geres, and a home in Turin, Italy.
Inside Cristiano Ronaldo's house in Turin, Italy
11.
How much does Nike pay Ronaldo?
In 2016, Cristiano Ronaldo signed a lifetime contract with the design and manufacturing company Nike. The Portuguese, who has been the face of Nike since 2003, was able to secure such a lucrative contract as his career progressed successfully, breaking and setting many records.
According to a 2019 report by Der Spiegel, Ronaldo's contract with Nike is worth €162 million (£146.8 million), of which he receives an annual payment of €16.2 million (£14.68 million).
Nike's sponsorship deal with Ronaldo gave the company an advantage over rival Adidas, which was also vying for the Portuguese sponsorship deal.