Rihanna, Tems drops "Lift me Up" for Black Panther
Rihanna has given her fans a worthwhile treat with her new pop single, "Lift me Up," which featured Nigerian singer Tems. "Lift me Up" by Rihanna has become Rihanna's newest release since 2016.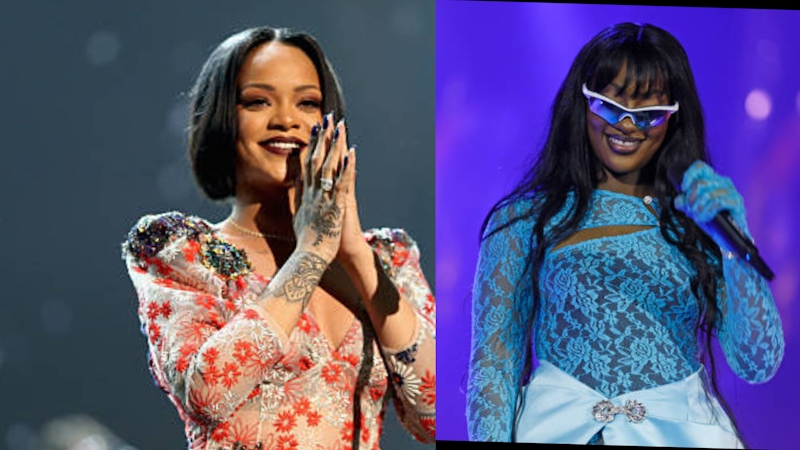 Barbadian music star and Fenty billionaire Robyn Rihanna Fenty, aka Rihanna, has released her first single in six years.
The "Umbrella" singer released her new solo single "Lift Me" on Friday, October 28, 2022. The new song will also be featured as one of the soundtracks for the forthcoming Black Panther sequel, set to premiere on Novemeber 11, 2022.
The 34-year-old mother and baby mama to ASAP Rocky kept her fans in the dark until Wednesday when she released a teaser on her Twitter page and captioned it "Lift Me. 10.28.2022".
According to reports from the movie director, Ryan Coogler, Rihanna's decision to deliver the soundtrack was in honor of late star actor Chadwick Boseman.
Chadwick Boseman starred as the lead actor in the first Black Panther movie but died in 2020 after battling Colon cancer. In 2021, Chadwick Bossman was posthumously nominated for an Oscar Award based on his performance in Ma Rainey's "Black Bottom."
For many fans and lovers of Rihanna, Rihanna's "Lift me Up" song, which featured the Nigerian Alte singer Tems is a breath of fresh air. Rihanna and Tems co-wrote the song; Both singers bonded in September at an event in Los Angeles to advertise the Rihanna lingerie collection.
Rihanna becomes the latest musician to work with Tems after Drake, Justin Bieber, Future, Beyonce, Wizkid, and Khalid.
The track is set to be released on November 4, 2022. In a statement, Tems disclosed that after speaking with Ryan Coogler, the director of the Black Panther sequel, "he heard his direction for the film and the song. I wanted to write something that portrays a warm embrace from all the people I had lost in my life.
"I tried to imagine what I would feel like if I could sing to them now and express how much I miss them."
The Nigerian singer, Tems, further explained that Rihanna had always been a major inspiration and that delivering the song with her was a great honor.
Earlier, Tems featured on one of the movie's soundtracks with her rendition of musical legend Bob Marley's song-"No woman no cry."
Ludwig Göransson and director Ryan Coogler produced Rihanna's new single; the song will be released via Rihanna's Westbury Road label in partnership with Roc Nation, Def Jam Recordings, and Hollywood Records.
Fenty Billionaire, singer, songwriter and actress, Rihanna
Rihanna initially took a long hiatus from the industry to grow her business, focus on family, and recently had a baby boy with rapper A$AP Rocky.
Since her rise to fame in 2005 with her first single, "Pon De Replay," which appeared on her first album Music, the Barbadian singer has since released five more albums. The song "Lift Me Up" is the first solo single from Rihanna since her album Anti in 2016.
Rihanna is also set to headline the prestigious half-time show at February's Super Bowl in Arizona, her first live performance in over five years.