Best mechanical keyboards under $100 [2022]
Are you a gamer, programmer, or writer? These are the best mechanical keyboards under $100 available in 2022.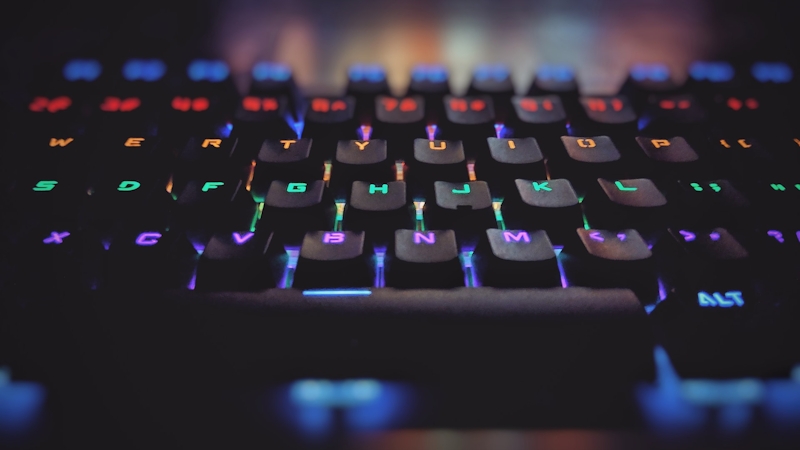 What is the best mechanical keyboard for under $100? Every esports enthusiast, programmer, or writer desires a pair of mechanical keyboards with an exceptional feel. However, the price is often a considerable impediment; hence the objective of this post is to identify the best mechanical keyboards under $100.
The best PS4 keyboards and mice will cost the typical gamer a pretty penny, but those on a budget may make an informed decision from our very comprehensive list.
In addition to this detailed roll, this page defines mechanical keyboards in detail and discusses why they are preferable for heavy users.
Price: $99.99
As a well-known maker of traditional mechanical keyboards, Cherry has created several classic keyboard devices, however , the MX 3.0S is the best mechanical keyboard under $100 and the company's first wireless production.
This three-mode mechanical gaming keyboard is paired with Cherry's Advanced Wireless Technology, which promises exceptional energy economy and minimal latency. The Cherry MX 3.0S keyboard keeps the distinct bottom shell design and has a 109-key layout measuring around 430mm x 140mm x 36mm.
The keyboard's bottom shell and side wings are built of distinct materials, with the side wings consisting of ornamental plastic plates. Also composed of plastic, the top cable outlet decreases the number of metal bases that interfere with wireless signals.
The Cherry MX 3.0S offers wired and wireless Bluetooth three-mode connections, and preserves the essential line separation architecture for its wires. The centre of the keyboard's top is now equipped with a USB Type-C port and a power button.
In addition, there is a broad flat space around the interface so that if the original connection is damaged, any USB-C cable may be used to transfer signals to the keyboard without worrying about the cable connector becoming loose, and compatibility is excellent. This functionality is another reason why the Cherry MX 3.0S is the best mechanical keyboard below $100.
The keyboard utilises a set of ABS keycaps with the original height, and the front surfaces of the keycaps have been coated with a matte technique to provide a nice feel. Its inside is reinforced with ribs, and the bottom nozzle is well cleaned.
However, white keycaps are more prone to get stained with oil over time; thus, they must be routinely cleaned.
The Cherry MX 3.0S Wireless three-mode mechanical gaming keyboard has a Cherry MX switch and RGB illumination. It continues the design without a steel plate, and the switch body is directly attached to the PCB; thus, the feel feedback is less pronounced and robust than the steel plate. In the absence of steel plates, the keys seem softer, recreating the sensation of the red switch.
Price: $89.99
A mechanical keyboard featuring Cherry MX Red keys and red LED illumination, the Corsair K68 is one of the best mechanical keyboards under $100. The lighting of the keyboard may be customised using the Cue Corsair application which allows for the modification of hue and lighting effects.
The Cue Corsair program also allows users to build macros for increased gaming comfort. This command for rapid movements is quite successful, making the Corsair K68 the second best mechanical keyboard under $100.
Like many other keyboards on the market, Corsair incorporated a Windows key lock button to prevent gamers from mistakenly launching the "Start" menu while playing a game.
However, its actual value lies in its compliance with the IP32 standard. Due to this, the Corsair K68 keyboard is resistant to moisture, dirt, and even food crumbs, earning it a deserved recognition as one of the best mechanical keyboards under $100. For this reason, the mechanical keyboard contains keys with silicone rubber shields that protect the whole internal structure of the attachment.
The Corsair K68 mechanical keyboard is a mid-range gadget almost identical to better-grade keyboards and is also a perfect budget keyboard for professional gamers.
And even if you're not a gamer but like all things flashy, this is the most fitting accessory that offers the best value for money at only $89.99 on the official website.
Price: $99.99
With the Pop Keys, Logitech created the ideal wireless keyboard for Generation Z, replete with detachable emoji keys and features ideal for a generation that prefers TikTok to typing.
Logitech Pop Keys is a wireless keyboard with mechanical keys and a significant catch: the appearance of specialised emoji keys for the first time on a mechanical keyboard, based on the eccentric design of Lofree's keyboard. Pop Keys is designed for the younger generation and is one of the best mechanical keyboards under $100 available today. It replaces the Numpad, which Gen Z seldom uses unless they are avid gamers, with a row of detachable, customisable emoji keys that activate an emoji upon contact.
The Logitech Pop Keys pairs seamlessly with phones, tablets, and even laptops and facilitates switching between three devices with the press of three hotkeys. It is available in three audaciously vibrant colour combinations, with the 'Blast Yellow' model being the most appealing.
The mechanical keyboard is powered by two AA batteries and has a remarkable three-year battery life. On the interior are mechanical TTC Brown scissor-switch keys, meant to offer touchscreen-obsessed Gen-Z a taste of tactile action, with a dash of 50 million strokes, the highest of any Logitech keyboard.
It is commendable that Logitech has invested in constructing lasting goods for a generation weaned on same-day shipping and use-and-throw cultures. In fairness, modern devices are not very repairable, so a lasting keyboard is a pleasure.
The 5 quick-access emoji keys on the right side of the Pop Keys, which cannot be emphasised enough as a gamechanger for a mechanical keyboard under $100, are the highlight of the Pop Keys, outside its absolute flash of colour.
The keys are detachable and interchangeable with other emoji keys included in the package. The keyboard has 8 emoji keys that may be swapped out, the most commonly used emojis, and one emoji menu key that provides access to the less common emojis.
The keyboard is compatible with several platforms, including iOS, Android, Windows, and Mac. While Bluetooth pairing is supported, the Logi Bolt USB connector/receiver is also included.
Price: $62.00
The CoolerMaster SK650 is an outdoor-friendly gaming keyboard that emphasises beauty and portability. The design is constructed of aluminium that has been polished and looks terrific.
The CoolerMaster SK650 keyboard is identical to the SK630 but has a digital area. As a result, the volume is increased to 12.5cm, the front panel is brushed gun-grey aluminium, and the body is created with a wedge form, so there is no support foot.
The CoolerMaster SK650 is one of the best mechanical keyboards under $100, providing a perfect gaming experience in a small form factor with Low Profile Cherry MX RGB Red switches.
The Cherry MX Low Profile RGB Red switches on the SK650 keyboard enhances your gaming performance by providing a 45g actuation force and 1.2 mm activation stroke on each key. This arrangement and its thin design offer a space-saving and efficient gaming option.
Each key on this device boasts different, multicoloured illumination for a pleasant effect. An RGB light bar is also included on the sides and bottom of the keyboard, allowing you to express your individuality in any environment.
You may assign a colour to your chosen key using specialised software as well as control effects, build macros, and organise game profiles.
In addition to an attractive brushed aluminium appearance, the CoolerMaster SK650 keyboard has an N-Key Rollover + 6-KRO hybrid mechanism for quick key detection.
Being one of the best mechanical keyboards under $100, it has on-the-fly instructions for quick adjustments from the keyboard and a 32-bit ARM Cortex CPU for rapid command and macro processing. Moreover, owing to the inbuilt memory, you may preserve all of your settings.
The MX Low Profile is the keyboard's most prominent feature. Compared with the regular MX mechanical switch, the low switch has decreased from 18.5mm to 11.9mm.
In addition to the switch's RGB lights, the realistic feel retains a great mechanical sensation. There are additional light stripes on the fuselage's sides.
Besides that, the SK650 is linked via a detachable USB-C connection and enables shuttle control, meaning no driver is necessary, and functions may be configured directly on the keyboard.
The keyboard is fitted with storage; thus, changing it does not need restarting the computer, a configuration typical on high-end keyboards as opposed to mechanical keyboards below $100.
This Cooler Master full-size keyboard with a low profile is priced at around $62, which, given that the Low Profile switch is currently rather pricey, is dirt cheap.
This budget mechanical keyboard is ideal for desktop users who want a basic desktop design and notebook users who travel regularly.
Price: $83.99
Dareu introduced the A87 fully-pluggable custom-switch mechanical keyboard on April 30, 2021. It is the first to be equipped with Dareu switch (purple axis and sky axis are optional) and uses a new plug-in axis design and colour scheme. It inherits the gaming performance of Dareu A-series peripherals.
The Dareu A87 is the fifth best mechanical keyboard under $100 because of its custom-made Dareu mechanical switches, which include a blue sky switch with a linear feel and a violet gold switch with a two-stage paragraph feel.
The custom switch body of Dareu employs an imported high-strength alloy spring with improved pressing smoothness and reduced trigger force mistakes. This function is capable of preserving the constancy of the tactile sensation.
It also adds gold-plated contacts to the switch body shrapnel, which may minimise metal vulcanisation, avoid a decrease in the switch body's service life owing to environmental changes, and respond to various conditions.
The Dareu A87's fully pluggable custom switch mechanical keyboard has a removable magnetic top cover and complete key support for hot-plugging, making it compatible with about 99 per cent of the market's mechanical switchs.
The full-key hot-swap layout transforms your keyboard into a tester, making it one of the best mechanical keyboards under $100. Each key may be tailored to your tactile preferences, and the mechanical keyboard as a whole can be tailored to your specific use patterns.
In summary, the Dareu A87 as one of the best budget mechanical keyboards is that its fully-pluggable custom-switch mechanical keyboard with wired connectivity employs a Type-C interface connecting cable. 
It offers two options: purple gold and sky blue appearance colour schemes. The look colour-matching design is consistent with the key switch, enabling you to express your individuality from the inside out.
The Dareu A87 mechanical keyboard utilises stable and durable PBT material keycaps and Dareu custom-made switchs, a reinforced metal panel and a high-toughness noise-absorbing silicone layer, a 3.5mm thick silicone pad with a 1.5mm thick iron, and a 3.5mm thick silicone pad with a 1.5mm thick iron.
The panel provides a close-fitting closed-loop, effectively reducing noise created by the keyboard's vibration when the switch switch is tapped during operation, making the keyboard seem more pure, pleasant, and not harsh.
What is a mechanical keyboard?
The mechanical keyboard is a specialised keyboard where each key is equipped with its individual switch. The construction is distinct from membrane and pantograph keyboards, which have a single sheet switch.
Within the keycap of a mechanical keyboard is usually a spring and a switch, allowing you to type while feeling firm. As a result, it is a favourite among gamers and programmers.
Due to their complicated construction, mechanical keyboards are more expensive than membrane and pantograph keyboards. In addition, there are multiple axes, such as the blue and red axes, and each has a distinct typing sensation and sound.
Many mechanical keyboards use "Cherry MX switches" made by German manufacturers, while others have their key switches.
Advantages: Why use a mechanical keyboard?
Since each key on a mechanical keyboard has its switch, it is fortunate that even if one is broken, you may continue to use the keyboard by mending just that key.
The diversity of switches, such as the blue and red axes, is also appealing. Since each switch has unique properties, you may choose one based on your preferences and circumstances. 
Additionally, mechanical keyboards are straightforward to maintain as the keycap may be easily removed for cleaning purposes.