Highest paying jobs in Nigeria right now
Despite being reputed as the second poverty capital of the world, the following highest paying jobs in Nigeria tell a different story.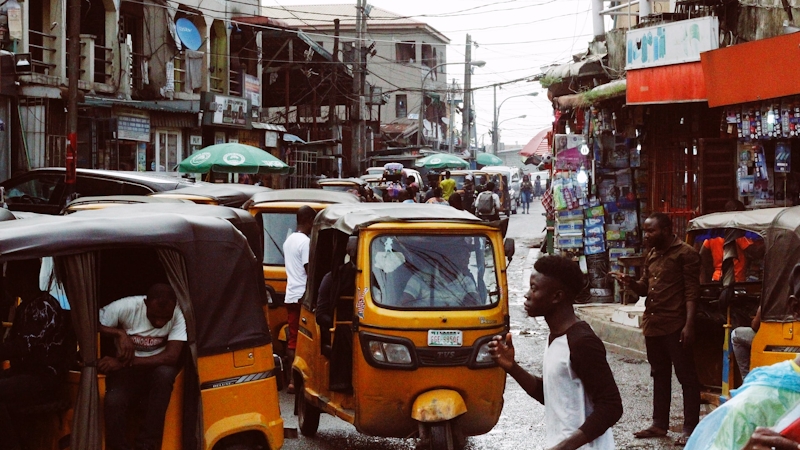 What are the highest paying jobs in Nigeria? With the country's minimum wage set at a paltry 30,000 NGN and the naira no longer one of Africa's strongest currencies, many are concerned with the availability of well-paying jobs in Nigeria.
If you're weary of patronising Nigerian loan apps, a common local practice, and you want to live lavishly off your salary, one of the highest-paying jobs in Nigeria may be your best option.
All of these jobs are in high demand in Nigeria and provide lucrative wage returns. This page also discusses high-paying jobs without a degree in Nigeria, highest paid government jobs in Nigeria, and what a decent salary is in Nigeria.
Although they do not dominate our list of the highest-paying jobs in Nigeria, consider how to make money online in Nigeria in 16 different ways to enable you to live comfortably.
The highest-paying jobs in Nigeria are:
The 9th highest paying job in Nigeria is marine engineering, who may make as much as 7,000,000 NGN per month and do not necessarily need a tertiary degree. As a result, marine engineers are one of the top high paying jobs without a degree in Nigeria.
Marine engineers in Nigeria primarily design, construct, test, and repair water vessels and are colloquially referred to as boat mechanics. 
But in more comprehensive contexts, their job also includes overseeing the development of the coastline, including the construction of beaches, marinas, ports, estuaries, and offshore oil platforms. 
Marine construction is a labour-intensive and team-oriented sector, hence its rating as one of the highest paying jobs in Nigeria. The marine engineer must be able to manage a team, communicate well, and be an effective educator.
Then, he must be able to think critically, be creative, cautious, and innovative, know how to utilise the most powerful computer tools, assume a great deal of responsibility, and have a fundamental knowledge of logic, science, and technology.
Anaesthetic nurses are accountable for the safety of patients undergoing local or general anaesthesia, hence their justifiable reputation as one of the highest paying jobs in Nigeria.
An anaesthetic nurse works closely with the resuscitation anesthesiologist in the operating room and must comfort and explain the progress of the intervention.
They welcome the patient into the operating room, where they have already prepared the anaesthetic equipment before administering the anaesthesia and monitoring the patient's status during the procedure.
Being one of the highest jobs in Nigeria, anaesthetic nurses support their coworkers by providing nursing care and managing equipment and drugs. They are in charge of the postoperative recovery period and adapt the therapy to the patient's demands.
These experts may also help patients during ambulance transport to guarantee their safety. Seeing the wide scope involved in anaesthetic nursing, it is Nigeria's 8th highest-paying job.
Due to the delicate intricacies involved, underwater welding is one of the highest-paying jobs in Nigeria. An underwater welder provides technical interventions in the underwater environment, such as maintenance, research, expertise, and safety of submerged parts.
With qualifications in scuba diving, underwater welders may work in public works firms, industrial companies, emergency structures, and the military, but the first two are the most profitable in Nigeria.
Depending on the intervention, underwater welders may need to spend many days or months away from home. This differs based on the sector, whether public works or industry, as well as the type of interventions and work performed.
Underwater welding typically encroaches on weekends, holidays, and at night and is subject to on-call duty, but many find solace in the fact that it is one of the highest-paying jobs without a degree in Nigeria.
Keep in mind that this task is performed in a high-pressure setting, in a regulated or enclosed atmosphere, or under other dangerous circumstances. Consequently, in addition to being the 7th highest paying job in Nigeria, underwater welding is also one of the most hazardous.
The biomedical engineer specialises in high-tech materials and equipment for the hospital industry, care facilities, and medical professionals. As the 6th highest paying job in Nigeria, experts in this field employ the most sophisticated methods of diagnosis, treatment, and aid technologies. 
These highly-paid professionals are responsible for all materials, from scanner to knife, through MRI, prostheses, and pacemakers.
Surrounded by a team of experts, biomedical engineers develop, oversee proper operation and maintenance, plan future equipment acquisitions, and assist hospital administration with technical decisions. 
In addition, biomedical engineers provide training sessions to guarantee that medical and nursing personnel can effectively handle the gadgets.
Biomedical engineering is one of the highest-paying jobs in Nigeria because professionals are well-versed in the regulations that must be followed to prevent injuring patients.
Their sphere of influence extends to the establishment's financial decisions, as their input is considered when arbitrating petitions from other departments.
Biomedical engineers might also work for medical equipment research and development firms.
5.
Aeronautical maintenance engineer
The fifth highest-paying job in Nigeria is held by aeronautical maintenance engineers, who are responsible for maintaining commercial and military aircraft, helicopters, space launches, satellites, and missiles.
In today's globalised industry, the teams are multinational; thus, to be on the leading edge of technology, you must continually acquire new knowledge.
One of the fastest-growing non-governmental sectors in the world, music is the 4th highest-paying job in Nigeria. This profession generates an average of $2,200 per million views/plays on streaming services alone, with the richest musicians earning significantly more after add-ons, bonuses, and endorsement deals.
Musicians may specialise in opera, jazz, rock, variety, or, as characteristic of the region, afrobeat. The musician interprets a repertoire, allowing him to identify his style and audience in accordance with an aesthetic sense that ensures the interpretation of the works.
Consequently, musicians must practice daily to maintain and improve their vocal range, expressiveness, vocal tone, physical resistance, and technique.
Their schedule is split between rehearsals, studio recordings, live performances, and promotional duties such as radio and television broadcasts, event participation, etc. 
To consistently enjoy the maximum benefit of this high-paying Nigerian job without a degree, musicians must continually examine their work and commit themselves to technical and aesthetic growth.
To establish a successful career, musicians must maintain a consistent schedule of auditions, rehearsals, and performances. It's imperative that Nigerians going down this route know what the best vocalists drink for the perfect singing voice.
A musician's daily routine includes frequent travel, regional tours, and participation in recitals, television performances, and festivals, among other things.
Fields facilitating remote employment, such as software development, programming, journalism, and writing, are among the highest-paying jobs in Nigeria.
One of the major trends for work in the 21st century is the ability to accomplish responsibilities outside of the corporate setting.
With jobs in Europe and the United States delivering the highest compensations in the world, remote workers in Nigeria may access this market from the comfort of their homes.
An employee of a web-based organisation such as the Daily Mail or BBC, for example, earns an average of 38 million NGN annually. In comparison, programmers and software developers cart home a salary north of 45 million NGN for even the smallest organisations abroad.
Numerous businesses have confirmed that it is no longer crucial for their workers to clock in and be in the same location for the business to thrive. As a result, remote work has become widespread.
Remote work, often known as teleworking, involves engaging in professional activities from a distance, utilising technology to complete tasks and communicate with coworkers. This has proven to be one of the highest-paying jobs for Nigerians with time and mobility constraints, like housewives, for example.
Companies and employees are increasingly opting for remote work, not just for convenience but also to save resources. Additionally, it allows for flexible working hours, a feature that is increasingly valued by employees worldwide.
With Africa's wealthiest man, Aliko Dangote, accumulating his fortune as a businessperson, entrepreneurship is the second highest paying job in Nigeria.
Data from the National Bureau of Statistics shows that Micro, Small, and Medium Enterprises (MSMEs) contribute to half of Nigeria's GDP and shoulder about 80 per cent of the country's employment responsibilities.
An entrepreneur is a self-employed business owner who assumes personal responsibility for the company's obligations. They must fund projects from their coffers and this profession is recognised as the best paying job in Nigeria without degree.
As the business leader, the entrepreneur supervises the commercial strategy, marketing initiatives, and budget, hence its status as one of the highest-paying jobs in Nigeria. This professional must collect human, financial, and material resources for daily progression.
Before establishing or acquiring a firm, an entrepreneur needs to undertake market analysis to determine the viability and feasibility of his proposed endeavour. Then, he composes a business strategy that comprises the following:
to the company's purpose;
the legal character of the administration of the organisation;
competitive evaluation;
marketing and advertising strategy;
financial predictions;
the funding strategy. 
The entrepreneur will present his project strategy to prospective investors, including banks, top venture capital firms and possible business partners, or might outrightly seek funding from loan platforms. 
The project may have challenging beginnings, including the prospect of rejection, failure, or insolvency, and minimal cash inflows. However, perseverance is recommended as the average return on investment is rather substantial, representing one of the highest paying jobs in Nigeria.
As oil and gas represents the spine of the nation's economy, petroleum engineering, which entails locating and developing oil deposits, is the highest paying job in Nigeria.
With Nigeria recording a daily average oil production of 1.49 million barrels in Q1 2022, the most in Africa, this field's top practitioners may make up to 6 million NGN monthly (72 million p.a).
Typically, they are requested to operate on offshore facilities (at sea) or land. Their work focuses on the unique aspects of oil extraction, including deposits, drilling, installation, production, research, and processing.
As the highest paying job in Nigeria, petroleum engineers mastermind the operational program, design and manage the equipment, investigate the most appropriate approaches, and monitor compliance with safety regulations.
However, it is extremely difficult for regular individuals, regardless of their academic qualifications, to penetrate the upper echelons of the petroleum industry in Nigeria, at least legally.
What is a good salary in Nigeria?
Across the nation, salaries for the same occupation might vary, compensating for the greater cost of living in certain cities. A good salary in Nigeria can be described as one that permits earners to maintain the local standard of living.
Considering the greater cost of living and transportation in metropolitan areas such as Lagos and Abuja, as well as the dire state of the naira, which is not one of Africa's highest currencies, a monthly income of 100,000 NGN may be considered good enough.
However, in more rural cities like Bauchi and Sokoto, where transportation is less expensive, and housing costs are relatively low, a monthly salary of 50,000 to 60,000 NGN might be deemed acceptable.
This pay scale has been evaluated in light of Nigeria's status as the country with the second-highest population of people living below the poverty line.
Using the 50-30-20 rule, you may establish whether you are living within your means. Fifty per cent of your take-home earnings should be utilised to satisfy your necessities such as accommodation, health care, food, child care, and transportation; thirty per cent for personal spending; and twenty per cent for savings.
Research the salary for your job in your location. Consider reducing your expenses or boosting your income if you are unable to make ends meet.
What jobs are in demand in Nigeria?
After the Corona lockdown, there has been a significant surge in demand for jobs in the digital industry. Several opportunities exist in line with the demand for online jobs, including web development and digital marketing.
Currently, the most in-demand job in Nigeria are:
Full Stack Developers: They are responsible for the construction and maintenance of websites. As a result of the lockdown, online work is preferred in all fields, and the market need for this position has grown. If you are interested in coding and have knowledge of Java, CSS, Python, etc., you may attempt to enter this sector.
Digital Marketing: If you are creative and interested in marketing, especially brand-building, this is the right profession. In recent years, the need for digital marketing has expanded significantly in tandem with businesses' demand for online labour.