The richest men in Nigeria 2022
We will take a look at the lives of the richest men in Nigeria in 2022 to highlight what being wealthy truly means because the wealth of the top five richest men in Nigeria, estimated at $39.2 billion, can end the nation's poverty.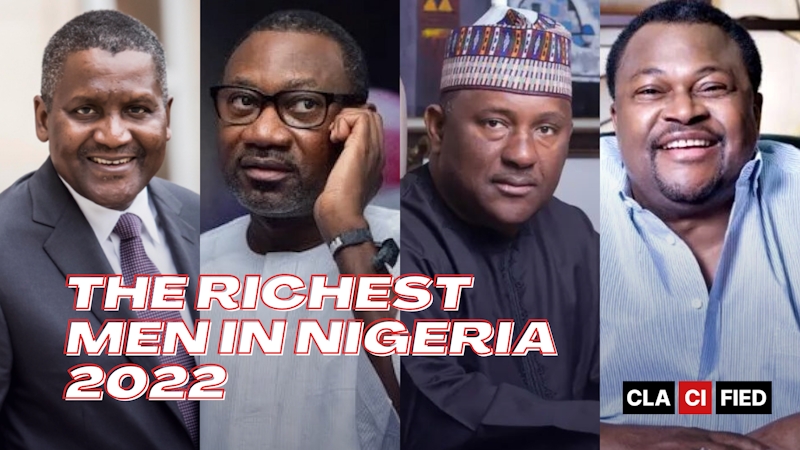 People often think that being rich means putting a lot of money in the bank or buying expensive things like cars, clothes, and accessories with high depreciation values. However, this is not always true. 
Looking at the lives of the richest men in Nigeria, we will understand better that the wealthy are more interested in making investments that appreciate over time. While their sources of wealth differ, the five richest men in Nigeria discussed in this article all have one thing in common - they each own a production firm or are the highest shareholders in one. 
That further reveals one of the biggest secrets to being wealthy: providing a solution that people need (in this case, they are providing products and services to solve people's problems). 
If you don't have a needed product, you can also provide a service - using your skills and expertise to solve problems that are peculiar and in demand.  
There are some common names that ring a bell when you speak of the richest men in Nigeria, as they have not just made their products household names but also enshrined their names in the hearts of almost every Nigerian. 
Key takeaways:
The richest man in Nigeria and Africa is Aliko Dangote
Abdul Samad Rabiu, Micheal Adeniyi Adenuga, and Femi Otedola are also among the top richest men in Nigeria.
Africa has only 18 billionaires.
Nigeria's richest man Dangote, refinery, will account for over half of Africa's medium-term refining additions.
Three out of the 18 Billionaires in Africa are from Nigeria.
Top 5 richest men in Nigeria 2022 and their net worth
A 2017 study found that combining the wealth of Nigeria's richest men can upend the country's economic situation. The study also suggests that they could end the poverty ravaging the country. 
That said, let's dive into the lives of Nigeria's top five richest men. The top five richest men in Nigeria are:
1.
Aliko Mohammad Dangote (GCON)
Richest Man In Nigeria 2022; Aliko Dangote
The name that rings a bell when you think of building a house in Nigeria due to his established capacity in the cement-making and distribution industry is Aliko Dangote. Dangote is the founder and chairman of the Dangote Group of Company. He is undeniably the richest man in Nigeria.
According to Forbes List, Dangote is the richest man in Nigeria and Africa, with an estimated net worth of $13.9 billion in 2022, a rise from $12.1 billion in 2021. He also made it to our list of top 10 richest men in Nigeria 2021.
Dangote has maintained the number one spot as the richest man in Nigeria and Africa for the 11th time in a row. With his 97%-completed world's largest refinery, he could soon be competing with the world's wealthiest individuals. 
Aliko Dangote was born on April 10, 1957, in Kano, Nigeria. He attended Al-Azhar University in Egypt with a Bachelor of Arts and Science before he ventured into his cement production business, which later turned him into a billionaire. 
Aside from the large-scale production and distribution of cement, Dangote also produces sugar, salt, pasta, and flour. His cement conglomerate has operations in 10 countries across Africa. 
Dangote's net worth is calculated per the following; 
Dangote owns 85% of his publicly-traded cement company through a holding company.
His cement conglomerate produces 45.6 million metric tons annually.  
He has a fertilizer plant in Nigeria that began operations in mid-2021.
His refinery, which has been under construction since 2016, is expected to be one of the world's largest oil refineries.
Dangote Refinery accounts for over half of Africa's medium-term refining additions
In its latest World Oil Outlook released on October 31, 2022, the Organization of Petroleum Exporting Countries (OPEC) indicated that Dangote's refinery would account for half of Africa's expected distillation additions in the medium term. 
OPEC's statement is based on the idea that Africa will add about 1.2 million barrels per day of distillation in the medium term. The Dangote refinery has 650,000 barrels per day, which is more than half of Africa's. 
In another projection, the African Petroleum Producers Organization (APPO) said Dangote's refinery, when it becomes fully operational, will reduce the importation of petroleum products produced in Africa by 36%
APPO's Secretary-General, Dr. Omar Farouk Ibrahim, stated in an interview on January 20, 2022, that the Dangote refinery will account for over 12% of Africa's oil demand despite the continent's current focus on energy transition.
Ibrahim stated, "To appreciate the impact that the Dangote refinery is going to have on African economies and especially on the supply of petroleum products, and to some extent the conservation of scarce foreign exchange, a look at some statistics on the continent's petroleum products demand and supply is in order.
He explained that Africa's daily petroleum demand is about 4.3 million barrels per day. Out of this, about 57% is produced within the continent, while about 43% is imported.
A fully operational Dangote refinery would mean that the percentage of imported petroleum could drop to as much as 36% even when product demand increases to 5.4 million barrels per day. With this, Dangote's refinery will be meeting more than 12% of Africa's product demand.
"That is a huge saving for a continent with scarce foreign exchange and little to export. We shall save from buying abroad and from shipping and insurance costs," Ibrahim added.
2.
Abdul Samad Isyaku Rabiu CFR CON
BUA Chairman, Abdul Samad Isyaku Rabiu
Abdul Samad Rabiu is the founder of B.U.A. Group, a Nigerian conglomerate that focuses on cement production, sugar refining, and real estate. With an estimated net worth of $7 billion, he is Nigeria's second richest man. This is according to Forbes. 
Abdul Samad Rabiu was born on August 4, 1960. He was one of Nigeria's foremost industrialists and was raised in Kano in the 1970s and 1980s. He is an alumnus of Capital University in Columbus, Ohio. He later returned to Nigeria at age 24 to manage the family business.
Abdul Rabiu, who is the former chairman of the Nigerian Bank of Industry, whose B.U.A. conglomerate generates revenues above $2.5 billion, is the 5th richest man in Africa. 
In 2021, he was estimated to be worth $5.5 billion, which placed him on the 6th ladder of the richest men in Africa, but he has moved up the ladder with a $2 billion addition to his wealth. 
Although Rabiu was born into a wealthy family, he later started his own business in 1988, importing rice, edible oil, flour, iron, and chemicals. 
In its young state, B.U.A. was contracted by the government-owned Delta Steel Company in 1990 to supply its raw materials in exchange for finished products. This gave the firm the needed boost as it expanded into steel production, billet production, iron ore importation, and multiple rolling mills construction in Nigeria. 
With its expanding business, B.U.A., after the Delta-Steel contract, acquired Nigeria's largest edible oil processing company - Nigerian Oil Mills Limited. 
Rabiu will further break into the flour production industry as he began the construction of two flour milling plants in Lagos and Kano in 2005, which were completed in 2008. 
The completion of the mills by B.U.A. broke the eight-year monopoly in the Nigerian sugar industry, as it was described as the second-largest sugar refinery in sub-Saharan Africa. 
B.U.A. was Rabiu's privately owned Obu company until early January 2020, when he merged his company with a listed firm, Cement Co. of Northern Nigeria, which he now controls.
Rabiu's merged firm, now called B.U.A. Cement Plc, trades on the Nigerian stock exchange, and he owns 98.5% of its shares, according to Forbes. 
3.
Michael Adeniyi Agbolade Ishola Adenuga Jr (CSG GCON)
Michael Adeniyi Adenuga, the owner of Nigeria's third-largest telecommunications company, Globacom, is Nigeria's third richest man, with an estimated net worth of $6.7 billion in 2022. 
The 68-year-old was Africa's 5th richest man in 2021 with a net worth of $6.3 billion, but dropped to the 6th after Abdul Samad Rabiu gained $2 billion in 2022. 
Mike owns a stake in Equitorial Trust Bank and the oil exploration firm Conoil (formerly Consolidated Oil Company). The Globacom firm also has a presence in Ghana and Benin. 
Mike made his first million in 1979 at the age of 24, trading laces and distributing soft drinks. His business wits and grits propelled him into oil, as he acquired a drilling license in 1990. 
Mike, in 1991, further received his Consolidated Oil, which had struck oil in the shallow waters of Ondo State, becoming the first indigenous oil company to do so in commercial quantity.
Taking a shot at telecommunications, Mike Adenuga jostled for a telecom license and was issued a conditional Global System for Mobile Communication (GSM) license in 1999, but the telecom license was later revoked. He, however, applied and secured a second one when the government held another auction in 2003. 
In August 2007, Mike Adenuga was named African Entrepreneur of the Year at the first African Telecoms Awards (A.T.A.).  Mike expanded his telecom business in May 2015 when he made a takeover bid to purchase Ivorian mobile telecom operator Comium Côte d'Ivoire for $600 million.
Although Mike has some wealth from oil, his telecom company, Glo, is making him millions of dollars as it offers international and voice calling, SMS, high-speed internet, ADSL for homes, landline services, and other telecom solutions.
Glo's 100,000 agents Moneymaster PSB Project in Nigeria
Adenuga's tentacles are getting broader as the telecom giant's owner plans to square up with his competitors in the industry. 
As of the time this article was written, Adebuga's Globacom company wanted to use its Moneymaster Payment Service Bank (PSB) to connect with more than 100,000 agents across Nigeria. This would help the company reach more customers and grow its customer base. 
Glo, while making the announcement, said Moneymaster would be leveraging mobile phones, PoS, and the web to provide financial inclusion to millions of Nigerians that are currently ousted from the financial system.
Through its PSB service, Glo said 50% of Nigerians who do not currently have access to banking services would get financial services and meet the Central Bank of Nigeria's 95% financial inclusion goal for Nigerians by 2024. 
"Money Master will disrupt the market and revolutionize the financial industry in the same way that Globalcom revolutionized the telecom industry with cutting edge technology and unique products when we started operation in the year 2003," Globacom's Head of Enterprise Business, Zakari Usman, said at the project unveiling. 
With this move, Globacom will increase its customer base, use its service, and inadvertently increase its revenue, which will, in turn, upvote the wealth of Adenuga in the coming years, which might return the oil and telecom tycoon to the second-richest man in Nigeria. 
4.
Femi Otedola
Nigerian billionaire Femi Otedola
Femi Otedola, the father of popular Nigerian disc jockey, Cuppy, is the fourth richest man in Nigeria, with an estimated net worth of $5.9 billion, according to Forbes. He is also listed as one of the richest people in Nigeria in 2020 and 2021.
Femi Otedola was born on November 4, 1962. He is an importer of petroleum products and the founder of Zenon Petroleum and Gas Ltd; he also owns several other shipping, real estate, and finance businesses. 
Otedola is one person you would describe as having a good eye for opportunities. In 2003, he maximized the opportunity in the retail fuel market. He set up Zenon Petroleum and Gas Ltd. This company majored in the marketing and distribution of petroleum products in Nigeria.
Majored in supplying petroleum products to big industries in Nigeria, including M.T.N., Dangote Group, Guinness Nigeria, Nestle, Nigerian Breweries and Unilever, and Coca-Cola, Otedola, in 2004 invested N15 billion into Zenon petroleum. 
He further acquired storage depots at Ibafon, Apapa, and four cargo vessels, amounting to a combined total storage capacity of 147,000 metric tonnes. In the same year, the oil mogul acquired a fleet of 100 DAF fuel-tanker trucks worth N1.4 billion.
Ten banks approved a US$1.5 billion (N193.5 billion) working capital loan for Zenon in March 2007 to build the largest premium motor spirit (P.M.S.), a.k.a petrol storage facility in Africa. 
That same year, Zenon acquired a 28.7% stake in African Petroleum, one of Nigeria's largest fuel marketers. Otedola was later appointed chairman and chief executive of Africa Petroleum by acquiring a controlling stake in the business in 2007. 
In December of 2007, Otedola's Zenon's stake at Africa Petroleum rose to 55.3% after he acquired a further 29.3 percent of the company for N40 billion. Otedola, in December 2010, rebranded African Petroleum and changed its name to Forte Oil P.L.C. 
Otedola, again taking advantage of an opportunity in 2013, financed 57% of Forte Oil subsidiary Amperion Ltd, which acquired the 414 MW Geregu Power Plant for $132 million.
However, in 2019, Femi Otedola sold his company, Forte Oil Plc, and announced plans to change his focus from oil to power with his company, Geregu Power Plc.
Otedola, in his recent move, is the largest shareholder of First Bank Nigeria as of 2021.
5.
Arthur Eze
Chief Executive Officer of Atlas Oranto Petroleum, Arthur Eze
The fifth richest man in Nigeria is a politician and Chief Executive Officer of Atlas Oranto Petroleum, Arthur Eze, with an estimated net worth of $5.7 billion. 
Arthur Eze, who is described as the richest man in the eastern part of Nigeria, was born on November 27, 1948, and hails from Dunukofia L.G.A., in Anambra State, Nigeria.
Popularly known as 'Prince Arthur Eze' as he is from a royal family, and his elder brother is the traditional ruler (King) of Ukpo Village, Arthur Eze attended California State University, where he bagged his degree in mechanical and chemical engineering between 1974 and 1978.
Arthur's Atlas Oranto Petroleum holds the position of the largest oil exploration block in Africa. It is described as Nigeria's largest privately held, Africa-focused exploration and production company.
Atlas Oranto has oil and gas assets in Gambia, Equatorial Guinea, Nigeria, and Liberia; it also has 22 oil and gas licenses in 12 jurisdictions across the African continent. 
Its technical base is situated in Lagos, while Arthur, who wants the company to be close to African policymakers in the region, chooses Abuja as his corporate headquarters. 
Now that we have discussed the top 5 richest men in Nigeria, let's take a quick look at the list of the 18 billionaires and richest people in Africa and their net worth.
Africa's 18 Billionaires

| Names | Age | Country | Net worth |
| --- | --- | --- | --- |
| 1. Aliko Dangote | 64 | Nigeria | $13.9 billion |
| 2. Johann Rupert & Family | 71 | South Africa | $11 billion |
| 3. Nicky Oppenheimer & Family | 76 | South Africa | $8.7 billion |
| 4. Nassef Sawiris | 61 | Egypt | $8.5 billion |
| 5. Abdul Samad Rabiu | 61 | Nigeria | $7 billion |
| 6. Mike Adenuga | 68 | Nigeria | $6.7 billion |
| 7. Issad Rebrab & Family | 78 | Algeria | $5.1 billion |
| 8. Naguib Sawiris | 67 | Egypt | $3.4 billion |
| 9. Patrice Motsepe | 59 | South Africa | $3.1 billion |
| 10. Koos Bekker | 59 | South Africa | $3.1 billion |
| 11. Strive Masiyiwa | 60 | Zimbabwe | $2.7 billion |
| 12. Mohammed Mansour | 74 | Egypt | $2.5 billion |
| 13. Aziz Akhannouch & Family | 61 | Morocco | $2.2 billion |
| 14. Michiel Le Roux | 72 | South Africa | $1.7 billion |
| 15. Othman Benjelloun & Family | 89 | Morocco | $1.5 billion |
| 16. Mohammed Dewji | 46 | Tanzania | $1.5 billion |
| 17. Youssef Mansour | 76 | Egypt | $1.5 billion |
| 18. Yasseen Mansour | 60 | Egypt | $1.1 billion |
Nigeria's top 5 richest men can solve the nation's poverty
The wealth of the top five richest men in Nigeria, estimated at $39.2 billion, can end the nation's poverty, a report by Oxfam stated. 
Analysis of the report indicated that; 
Nigeria's richest man earns 8,000 times more in one day than an average working-class Nigerian will spend on their basic needs in a year.
Over 112 million Nigerians live in poverty; however, the country's richest man would need to spend $1 million a day for 42 years to finish the fortune he has already acquired. 
In the report titled, 'Inequality in Nigeria: Exploring the Drivers," the richest man in Nigeria's annual earnings can lift 2 million people out of poverty per year.
However, it is worth noting that the capitalist economy of Nigeria has also given these men the privilege to profit expansively at the expense of the common Nigerians without the capital to scale their ideas, businesses, and products. 
This has led to a widening gap between the few rich elites and the poor commoners, described by American businessman Robert Kiyosaki in one of his books as the 'Unfair Advantage." 
While the rich men in Nigeria took advantage of the nation's capitalist economy, most of them built their wealth with hard work, persistence, and a never-give-up attitude.