Tom Cruise net worth 2023
Explore Tom Cruise's impressive net worth, from Hollywood stardom, to property investments, and his role as a successful film producer.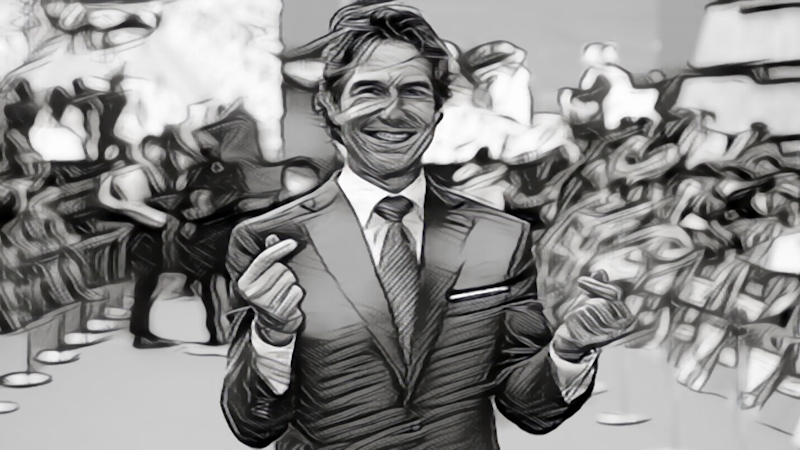 American actor Tom Cruise, a prominent figure in Hollywood, remains highly relevant even in his 60s. His estimated net worth, surpassing 600 million dollars, which ranks him as one of the world's richest actors, is evidence of his multifaceted career as an actor and film producer.
Over his impressive 42-year career, Tom Cruise's wealth has soared, primarily due to his extensive filmography. In 2022, he was crowned as the world's highest-paid actor, largely attributable to the success of "Top Gun 2," earning more than most of the globe's wealthiest footballers.
His initial base salary of 14 million dollars for the film skyrocketed to 100 million, mirroring the triumph of the sequel to Maverick's adventures. A similar financial windfall is expected for his role in "Mission: Impossible 7."
This substantial fortune is a far cry from the humble beginnings of Thomas Cruise Mapother IV, born on July 3, 1962, in Syracuse, New York.
Despite crossing the age of 60, Tom Cruise continues to astonish audiences by performing daring stunts, from leaping off buildings to piloting helicopters, as seen in his latest "Mission Impossible" instalment.
His dedication to performing these action sequences and mastering various extreme activities, including skydiving and flying an F-18, sets him apart in the world of cinema.
Over the course of the past three decades, Tom Cruise has consistently headlined a series of commercially successful films that have enjoyed significant box office success. 
Remarkably, up until June 2022, none of Cruise's movies had crossed the billion-dollar mark. Prior to this milestone, the highest-grossing film in his repertoire was "Mission: Impossible - Fallout" from 2018, which amassed an international gross of approximately $800 million. 
However, this narrative changed in June 2022 when his film "Top Gun: Maverick" crossed the billion-dollar threshold.
The marriage between Tom Cruise and the Hollywood film industry stands as one of the most prosperous in history, with no signs of waning. From 1983 to 2011, Cruise's earnings from film salaries amounted to a staggering $445 million. Subsequently, between 2011 and 2019, he accumulated an additional $300 million, resulting in a remarkable total career earnings of $745 million.
Beyond Cruise's personal net worth, it is equally impressive to consider the immense revenue generated by the films in which he has starred. According to Box Office Mojo, movies featuring Tom Cruise have collectively raked in over $6.6 billion at the global box office. 
This lucrative success has not only enriched Cruise himself but has also benefited a multitude of individuals who have collaborated with him in the industry.
1980s-90s
Tom Cruise undoubtedly stands as one of the quintessential figures in Hollywood's "royalty." Before venturing into the world of film production, Tom Cruise dedicated an entire decade, the 1980s, to solidifying his success.
Over the span of his four-decade career, which commenced with his debut in "Endless Love" back in 1981, he has not only become an iconic actor but has consistently been associated with projects that have achieved blockbuster status, consistently securing their positions among the highest-grossing films with record-breaking collections.
Tom Cruise's journey into stardom began in 1981 when he landed his first significant role in the film "Taps." Remarkably, he was just 19 years old at the time, and for his efforts, he received a modest sum of $50,000. This marked the inception of a career that would eventually reach monumental heights.
Tom Cruise's ascent continued with "Risky Business" in 1983, a film that not only brought him acclaim but also earned him $75,000. It was during this period that Cruise entered into a long-standing partnership with Paula Wagner of the talent agency CAA. 
Subsequently, his earnings soared as he secured leading roles in notable films. For instance, he earned $500,000 for "Legend" in 1985, and "Top Gun" in 1986 was a pivotal moment, with the actor receiving a millionaire's salary of $2 million. 
This collaboration eventually led to the creation of Cruise/Wagner Productions in the early 1990s, which proved to be a lucrative endeavour for the actor.
His paychecks continued to grow, culminating in a significant milestone in 1994 when he signed a contract for $15 million to portray Lestat de Lioncourt in "Interview with the Vampire."
During this period, Cruise's earnings further included $3 million for "Cocktail," $9 million for "Days of Thunder," $13 million for "Far and Away," and $12 million each for "A Few Good Men" and "The Firm.
Mission Impossible and War of the Worlds
Tom Cruise's 1996 journey into film production significantly boosted his earnings, particularly in the "Mission: Impossible" franchise. For the initial instalment of the series, he secured a producer credit, amassing an impressive $70 million. This financial trend continued with "Mission: Impossible 3," where he raked in an additional $75 million.
Yet, the true financial zenith was reached with "Mission: Impossible 2" and "War of the Worlds," both of which contributed $100 million to Cruise's coffers.
The $80 million "Mission Impossible" project went on to gross $457 million, igniting one of the most celebrated cinematic sagas to date, featuring seven instalments of remarkable quality and remarkable box office success. Remarkably, just the first three entries in the series netted Tom Cruise a total of $245 million. 
Notably, Tom Cruise's shrewd negotiation skills have played a significant role in his impressive income, setting him apart from many of his Hollywood counterparts.
Notably, "Mission: Impossible 2" had a budget of $125 million, but Cruise opted for a different compensation structure. Rather than a fixed upfront salary, he arranged a special agreement that entitled him to a share of the film's box office profits. 
The film's tremendous success, grossing over $500 million, translated into an astounding $75 million in earnings for Cruise. 
Cruise's approach of forgoing upfront salaries in favour of a share in box office profits is a strategy employed by other Hollywood actors to maximise their income, especially in the context of successful franchise films. 
After the triumph of "Mission: Impossible 2," Tom Cruise continued to employ similar tactics, such as in "Top Gun: Maverick," once again reaping over $100 million in box office revenue.
In his latest "Mission: Impossible 7," Cruise may not command a high salary, but its box office performance does not match that of "Top Gun: Maverick," underlining the dynamic nature of this negotiation tactic. 
Production
Tom Cruise's financial success is not limited to acting alone. His role as a producer has significantly contributed to his fortune, particularly through his credits in the "Mission: Impossible" saga and other films.
Cruise's production endeavours are channelled through Cruise/Wagner Productions, a company he co-founded with Paula Wagner in 1993. This partnership has yielded numerous successful films, accumulating approximately $3 billion in worldwide box office earnings.
For many years, Cruise maintained an exclusive agreement with Paramount Pictures. However, this partnership fractured due to the actor's controversial statements concerning psychiatry and antidepressants. 
In 2006, Cruise and Paula Wagner joined United Artists in an effort to revive the studio. Although the project faced challenges and was not an unqualified success, they still retain a 30% stake in the studio to this day.
Why is Tom Cruise so rich?
Tom Cruise's immense wealth can be attributed to several key factors. In 2022, he claimed the title of the world's highest-paid actor, with an impressive $100 million earned primarily through the mega-successful sequel to "Top Gun." However, what truly astounded fans was the revelation of how much Cruise earns per spoken word.
Data from "Yahoo Finance" reveals that Tom Cruise garners a remarkable $7,091 for each word he utters, translating to $205,639 for just 10 seconds of dialogue. A crucial aspect of his financial success lies in his unique approach to compensation. 
Cruise often forgoes a traditional fixed salary, opting instead to receive a percentage of a film's earnings. Notably, this strategy proved exceptionally lucrative with the "Mission: Impossible" franchise, where he amassed over $200 million through this arrangement.
Tom Cruise's financial prowess is further underscored by his inclusion in the top 10 richest celebrities according to "Forbes" magazine, propelled by the success of "Mission: Impossible: Ghost Protocol" in 2012.
Unlike many contemporary stars who command exorbitant fixed salaries, Cruise deliberately chooses to lower his base pay, but with a significant condition: he secures an additional percentage of the box office receipts. 
This contrasts with actors like Leonardo DiCaprio, Vin Diesel, Will Smith, or Dwayne Johnson, who receive substantial fixed sums for their roles in various films. 
Cruise's willingness to adjust his base pay for the next two "Mission: Impossible" instalments, reducing it to a range of $12 to $14 million, while capitalising on the additional collection bonus, further showcases his unique approach.
Variety reports that Cruise's contract grants him an immediate percentage of the box office, ensuring that he reaps extra profits even before the studio recovers its investment. 
This may appear risky, particularly in the current post-pandemic cinema landscape, where strong box office performance is not guaranteed. However, Tom Cruise's global appeal and reputation allow him to navigate such agreements with confidence.
Moreover, Cruise possesses a reputation few can rival. While the industry has increasingly emphasised the appeal of franchise brands like Marvel, Cruise continues to demonstrate that his name and presence remain powerful. 
For example, unlike stars such as Robert Downey Jr., whose success was closely tied to the Iron Man character, Cruise has managed to maintain his star status even outside of major franchises.
Minor sagas like "Jack Reacher," with a more modest budget of $60 million, achieved considerable success, grossing over $218 million and even spawning a sequel. 
Two of the most financially rewarding contracts in Cruise's illustrious career were for "Mission Impossible" in 2000 and "War of the Worlds" in 2005, both of which yielded him an impressive $100 million each. 
This staggering income secured his place in the ranks of the highest-earning actors for a single film, with only Bruce Willis' $105 million for "The Sixth Sense" and Keanu Reeves' astounding $156 million for "The Matrix" surpassing his earnings.
When considering his total income from 1983 to 2019, encompassing salaries and bonuses, it amounts to approximately $745 million.
Let's delve into the movies that have contributed significantly to Tom Cruise's impressive wealth:
"Top Gun: Maverick": He negotiated a salary of $14 million along with a 10% share of box office profits, estimated to exceed $100 million.
"Mission Impossible 2": Cruise's earnings reached $100 million through a combination of his salary, a share of the box office profits, and his role as a producer.
"War of the Worlds": Similar to "Mission Impossible 2," this film also brought him $100 million, thanks to his salary, a percentage of box office revenues, and his role as a producer.
"Mission Impossible 3": With a total of $75 million, Cruise's earnings derived from his salary, a share of the box office profits, and his producer role.
"Mission Impossible": The initial instalment in the series added $70 million to his coffers, a product of his salary, box office percentage, and involvement as a producer.
Cruise's substantial income extends to several other notable films, as per the esteemed IMDB ranking site for the world's most-watched movies:
- "Mission Impossible: Ghost Protocol" (2011): $12.5 million
- "Knight and Day" (2010): $11 million plus a share of the profits
- "The Last Samurai" (2003): $25 million plus a percentage of the profits
- "Interview with the Vampire" (1994): $15 million
- "Far and Away" (1992): $13 million
- "Days of Thunder" (1990): $9 million
- "Cocktail" (1988): $3 million
- "The Color of Money" (1986): $1 million
- "Top Gun" (1986): $2 million
- "Risky Business" (1983): $75,000
- "The Outsiders" (1981): $50,000
What does Tom Cruise do with all his money?
Tom Cruise's wealth management is a fascinating subject. The actor, known for his successful investments, actively engages in real estate ventures, consistently turning a profit. 
In 2013, Tom Cruise cashed in on a New York East Village condo, selling it for a tidy sum of three million dollars. 
A few years later, he completed a substantial deal with Eva Longoria, unloading a Hollywood Hills property for a staggering 11.4 million dollars.
Cruise's prowess in real estate extended to Beverly Hills, where he sold a property to Leon Black in 2016 for an estimated 40 million dollars. It's worth noting that he had originally acquired this property in 2006 for 30.5 million dollars during his marriage to Katie Holmes. 
However, there was one property that appeared resistant to Tom Cruise's business acumen, a mansion constructed in Telluride, Colorado, in the mid-90s during his marriage to Nicole Kidman. Despite being listed for sale at 59 million dollars in 2016, it languished on the market. Yet, through multiple listings in 2018 and 2021, Cruise finally managed to sell the property in May 2021, securing an approximate 39.5 million dollars.
Additionally, he has grand plans for purchasing land on the serene Hawaiian island of Lanai. The decision to acquire this property is driven by a desire to create a tropical paradise that he can share with his children, particularly Suri.
Divorce
During his divorce from Katie Holmes in 2012, Tom Cruise took decisive steps to protect his substantial wealth by implementing a prenuptial agreement. At that time, his assets amounted to approximately 250 million dollars, whereas Holmes, an emerging actress, had a comparatively modest wealth of around 10 million dollars. 
The divorce settlement, as reported by HuffPost, required Cruise to pay Holmes 4.8 million dollars in alimony. While the prenuptial agreement covered the majority of their assets, Holmes also received his valuable jewellery, worth millions, as part of the division. 
Suri Cruise
Tom Cruise's financial commitment to his daughter, Suri Cruise, one of the world's richest kids, is substantial, with an annual pension exceeding $400,000. Remarkably, this financial support continues even though he has not seen his daughter for over a decade following his divorce from Katie Holmes.
In his efforts to ensure Suri's safety, Cruise has taken extensive security measures, including hiring a child who bears a striking resemblance to Suri, setting up a super-secret panic room, and employing heavily armed bodyguards. He has also invested in bomb-proof supercars. 
The cost of these security measures for both himself and his daughter reportedly reaches about 12 million dollars, as reported by the American tabloid National Enquirer.
Despite their separation, the agreement between Cruise and Holmes was quite generous to guarantee that Suri would maintain her high standard of living as the actor's daughter. 
The annual pension for Suri is set at $400,000 for 12 years, until 2024, in addition to Cruise's commitment to cover expenses related to her education, extracurricular activities, healthcare, and insurance. 
In exchange for maintaining custody of her daughter and educating her outside of the Church of Scientology, Holmes agreed to waive any compensation from Cruise.
Following their divorce, Katie Holmes withdrew Suri from the California school she attended, which had a predominantly Scientology-affiliated student body, due to Cruise's prominent association with the Church.
The financial arrangement stipulates that the $400,000 pension will be paid in 12 monthly instalments of $33,000, and Cruise is responsible for covering all of Suri's medical and educational expenses, including university tuition. 
Suri has expressed an interest in studying fashion, with New York being her chosen location. The decisions regarding her educational future were reportedly made in consultation with her mother, and it seems she did not seek her father's input on the matter.
Although it was reported that Cruise could potentially meet with his daughter whenever he wished and in agreement with her, it appears that he has chosen not to engage with her, as noted by the website TheList.
Church of Scientology
Tom Cruise is arguably the most prominent and recognizable figure associated with the controversial religious movement known as Scientology. This faith has attracted a number of notable personalities and was founded in 1953 by American science fiction author L. Ron Hubbard. 
Cruise's prominent role within the organisation aligns with his substantial financial support, as he has contributed over 2.5 million dollars to the cause over time.
Tom Cruise's real estate holdings are nothing short of extravagant. 
Since 2018, Tom Cruise has been a resident of a duplex penthouse within a luxurious condominium building located in close proximity to The Flag Building, Scientology's international centre for religious training and spiritual counselling in Clearwater, Florida. 
The actor invested around 11.8 million dollars in this property, which features a private elevator, a dedicated flight simulator room, a private indoor pool, and a bar, among various other amenities and luxuries.
Tom Cruise's passion for automobiles is well-known, as evidenced by his impressive garage that accommodates his valuable collection of vehicles. 
This assortment includes cars such as the Vyrus 987 C3 4V, Bugatti Veyron, Porsche 911, and Chevrolet Corvette C1. Alongside these cars, his love for motorcycles is apparent, with models like the Ducati 999R, Triumph Bonneville Scrambler, and BMW R9T Scrambler. 
Notably, Cruise's collection extends to the skies, where he owns a G450 private jet, a purchase amounting to around 38 million dollars.
Tom Cruise's journey to stardom is a testament to his resilience and talent. Despite having been in the movie industry for decades and earning his place as a top-tier star, his acting career began somewhat unexpectedly. 
In high school, he faced a knee injury that forced him to step away from the wrestling team, leading him to join the school's drama club.
Upon completing high school, Cruise made the pivotal decision to relocate to Los Angeles, where he would embark on his acting career. 
His big break came in 1981 when he landed his first role in the movie "Endless Love" for which he received $30,000. This early success drew attention to his acting prowess, opening doors to more significant projects.
The turning point in his rise to fame arrived in 1983 when Cruise secured the lead role in the movie "Risky Business." This film catapulted him to stardom and laid the foundation for his remarkable career. 
One of his most iconic roles came in 1986 with "Top Gun," a film that grossed a staggering $356 million. Tom Cruise earned his first million dollars for his role in "Top Gun," a sum that would be overshadowed by his later earnings, such as the $24 million he received for the sequel.
His versatility as an actor was highlighted in 1989 with "Rain Man," which earned him his first Oscar nomination. Cruise's success continued with the "Mission: Impossible" film saga, the first instalment of which grossed over $450 million worldwide.
Tom Cruise has an extensive filmography, having participated in over 40 films, with more than 20 of them grossing over $100 million worldwide.
Throughout his career, he has been married three times, to actresses Mimi Rogers, Nicole Kidman, and Katie Holmes. Notably, his marriage to Katie Holmes, which lasted from 2006 to 2012, led to a financial arrangement in which he agreed to pay $400,000 per year to support their daughter, Suri, for 12 years, totaling around $5 million.